Celebrating shooting's stalwarts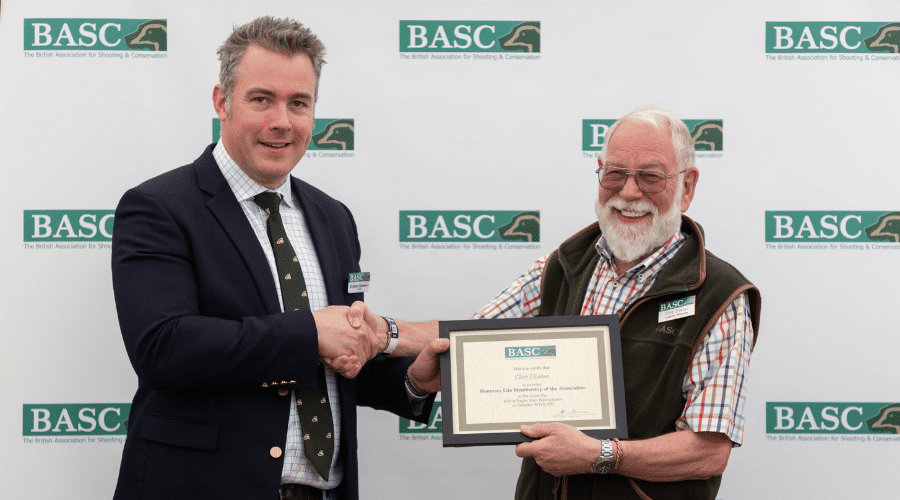 Each year, BASC presents a number of honours and awards which reward those who go the extra mile for the good of shooting and conservation.
BASC members have the opportunity to nominate anyone who they think deserves recognition for their contribution to shooting and conservation for one of our annual honours and awards. 
There are are a total of nine BASC honours and awards that people can be nominated for, which are as follows:
Honorary Vice President
A lifetime award for individuals in the public arena who have shown commitment to BASC and its objectives at a high level. Examples include ex-presidents, senior politicians and people who have served in public bodies, and distinguished professionals who have served publicly over an extended period of time.
Honorary Life Membership
Awarded to individuals who have served BASC and the membership continuously for more than 20 years and have benefitted the membership, shooting and/or conservation by their outstanding achievements.
The Philip Distinguished Service Award
Presented for a significant national contribution to BASC and/or shooting, with no time constraints. This is a new award inaugurated last year in memory of the late Duke of Edinburgh, BASC's patron for more than half a century.
The Payne-Gallwey Long Service Award
Awarded for 20 years or more of local service as an officer of a club or syndicate, or for long-term volunteering. 
The Stanley Duncan Conservation Trophy
Presented by the 7th Earl of Leicester to a club, syndicate, group of members, or an individual member who has contributed most within the preceding three years to highlight BASC's conservation work.
The Ian Richardson Trophy
Awarded by BASC staff to an individual (not necessarily a member) who has made a special contribution to the association.
The Tim Sedgwick Trophy
Presented annually to a person who has made a notable contribution to the fortunes of BASC in the preceding 12 months.
BASC Ladies Shooting Award
Awarded by the BASC Ladies Shooting team, this award is presented to an individual who has contributed markedly to the promotion of women's shooting over the previous year. 
Special Presentation Award
Presented to both members and non-members, recipients of these awards are nominated by BASC Council or staff in recognition of special service of any kind and length to the organisation or shooting as a whole.
The great and the good
Regarding the honours and awards, David Gervers, acting BASC England director, said: "For many years BASC has ensured that the hard work of passionate people, who strive to make a difference, is duly acknowledged. 
"Whether the individuals in question have openly promoted our values on the public scene, or faithfully served BASC and the wider shooting community for a considerably long time, we think it is important to recognise and reward those who go the extra mile for the good of our sport.
"We encourage all members of the association to put forward their nominations for this year's honours and awards."
Click here for more information and to nominate someone for a BASC honour or award.