Peri and River sail to success at Crufts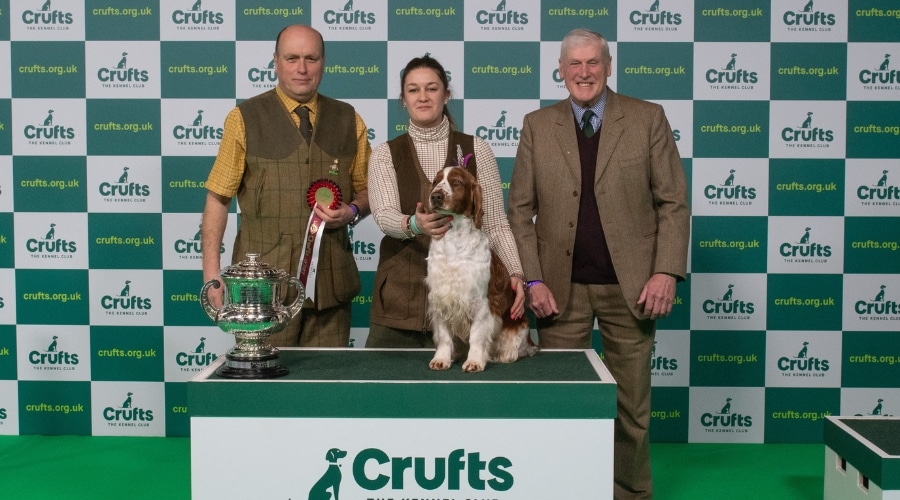 A Welsh springer spaniel has been crowned overall winner of the BASC gamekeepers' classes on Gundog Day at Crufts 2023.
River, or Bowdonia Moon River JW to give her her full name, is owned by underkeeper Peri Burchmore from Peterborough in Cambridgeshire.
With entries to the BASC gamekeeper and other gundog handler classes up by almost 20 per cent this year, the event was hotly contested.
The top individual dogs owned by gamekeepers went head-to-head in a final show in the main arena, with Peri and River beating off competition from five other finalists to take the title of Best in Gamekeeping Class and the coveted Northesk Memorial Trophy.
Five-year-old River has reached the final for the past four years, finally taking the top spot yesterday, 9 March.
Peri, who has recently taken over as working secretary of the Welsh Springer Spaniel Club, said it was "a dream" to have won with her "once in a lifetime" dog.
She said: "Winning the gamekeepers' classes is something I've always dreamed of. River is an incredible dog. She goes beating and picking-up, she's got a real can-do attitude."
Peri and River were presented with their trophy by BASC Council member Ian Grindy.
Mr Grindy said: "Well done to all of the winners of BASC's gamekeeper and working gundog classes and thank you to everyone who took part. The day was hugely enjoyable and have us a chance to show working gundogs to a huge number of people from all over the world."
BASC's head of game and wildlife management Glynn Evans said: "Congratulations to everyone who took part in this year's event. It was great to see so many people taking part in our classes this year and we were delighted to have seen such an increase in the number of entrants.
"We are grateful to have once again had the chance to showcase how special working dogs are to tens of thousands of visitors and to have been given a platform by Crufts to show them on a global stage.
"Congratulations to all the winners of the Gamekeeper and Working Gundog classes and well done to everyone who took part."
The gamekeepers' classes are deeply rooted in the history of Crufts and BASC is proud to continue this strong tradition. The classes are unique to the event, giving handlers the opportunity to show working gundogs in their prime.
BASC's three rings at Crufts were sponsored by Skinner's, who also support the BASC gundog program.