In 2020, BASC invested in various advertisements aiming to promote and educate people on grouse moor shooting and its conservation benefits.
From the businesses that rely on the moor to the species that inhabit it, there is so much 'moor' than meets the eye.
Here is a selection of relevant press coverage:
Front and back page wrapper on Yorkshire post (four page)
Full page advertisement in The Scotsman
Full page advertisement in Deeside Piper
Full page advertisement in Lancashire Post
Full page advertisement in Clitheroe Advertiser
Full page advertisement in Sheffield Star
Full page advertisement in Derbyshire Times
Online billboard, half page, leaderboard and mobile banner in Yorkshire Post online
The glorious benefits of moorland management
of English grouse moors fall within a National Park or an Area of Outstanding Natural Beauty
of the Pennines and N. Yorks Moors' Special Protection Areas are managed for grouse
estimated annual value of grouse shooting in England, Wales and Scotland
people take part in grouse shooting annually and the average day brings 40 people together
Grouse shooting in England, Wales and Scotland supports the equivalent of
Over

2,500

full time jobs
more threatened wading birds supported on moors managed by gamekeepers
Managing heather helps preserve and protect the
UK'S BIGGEST
CARBON STORE
IN PEAT
Reduced risk of wildfires by
controlled burning
Heather moorland is rarer than rainforest
is found in Britain because of grouse moor management
Fresh water sources and reduced flood risk
of the UK's drinking water comes from the uplands
*Information from Value of Shooting report
Grouse Shooting on the Moorlands
Grouse shooting takes place on moorland as far south as Wales and Derbyshire and as far north as the Highlands of Scotland.
Moorland managed for grouse shooting delivers a vast array of benefits for wildlife, marginal communities, the rural economy and the wider upland landscape, while facilitating the harvest of a completely wild, healthy and nutritious food source.
The grouse shooting season starts on 12 August (often referred to as the 'Glorious Twelfth') and finishes on 10 December.
Click here to read more about quarry species and shooting seasons. 
Click below to learn more about the benefits of grouse shooting:
Briefing note on grouse shooting & moorland management
Benefits of grouse shooting - Infographic
Countryside Detectives - Plant identification​
The British Uplands - Countryside Workshop
New mobile app set to transform the recording of raptors on Scotland's grouse moors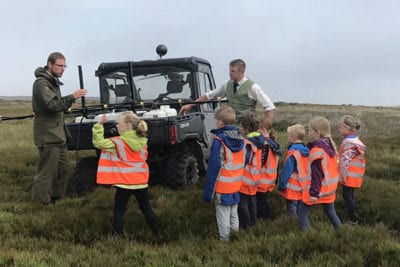 Let's Learn Moor 2021 set to educate and inspire thousands of primary school children from across the UK about our upland habitats.
Read more...