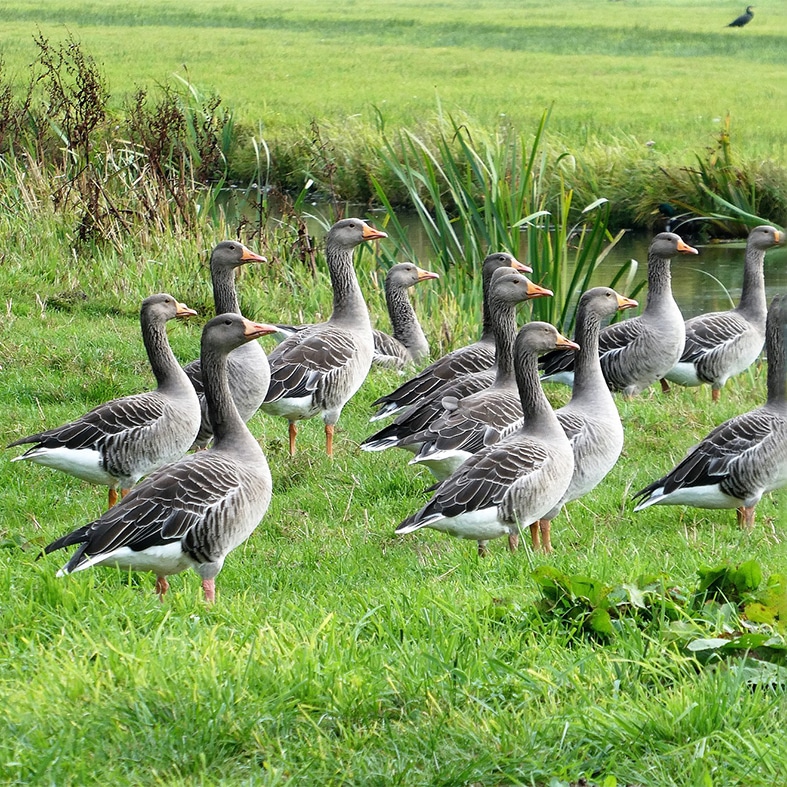 Inland goose shooting in Scotland
A code of practice for sporting agents and guides
Goose shooting is a traditional and highly-valued recreation for many people. If carried out responsibly it brings sustainable economic benefits to rural areas and helps prevent damage to crops.
High standards underpin public and political support for shooting, now and in the future. Through good conservation we can all work to ensure plentiful quarry species while benefiting the wider environment
The code provides advice at two levels:
Advice that must be followed in order to deliver sustainable shooting. Unless otherwise stated the term 'must' only applies to meeting the standards set by this Code of Practice and does not refer to a legal obligation.
Advice that should be followed in order to achieve Best Practice, any deviation from which would need justification.
The following golden rules apply:
All who shoot should conduct themselves according to the law and to the highest standards of safety, sportsmanship and courtesy, with full respect for their quarry, and a practical interest in wildlife conservation.
Agents and guides must make their clients aware of the law concerning goose shooting.
A bag limit of five pink-feet or two greylag geese per gun per shooting session should be observed.
Putting out food to attract geese for shooting is completely unacceptable and those responsible for shooting parties must ensure that farmers on whose land they shoot do not do so.
There should not be more than eight Guns in a shooting party, which must be supervised by at least one experienced guide who has been properly briefed as to his responsibilities.
Safety considerations must be paramount at all times.
Those responsible for shooting parties must instruct clients in range judgement before taking them out and stop out-of-range shooting immediately, if it is observed. Extra guides must be provided to ensure adequate supervision of inexperienced Guns.
Shot sizes of 1 or 3 are widely considered the best for goose shooting at a normal maximum range of 30 metres. However, experienced Guns may use shot sizes BB or 4 in suitable circumstances. If shooting on or over wetland areas all Guns must use non-lead shot. Recommended shot sizes for non-lead shot will either be the same as for lead shot or larger. Every effort should be made to minimise wounding and to retrieve all shot birds.
Those responsible must provide instructions on the identification of quarry and protected species and provide adequate supervision while shooting is taking place. It is illegal even to shoot at some goose species.
Generally, geese feed by day and roost at night on water or on large open areas. Excessive disturbance can cause geese to desert traditional roosts and feeding grounds: it is therefore preferable to shoot them on the flight lines between feeding and roosting areas.
Shooting geese leaving their roosts in the morning causes less disturbance than shooting them when they return in the evening. Shooting should not take place at inland roosts more than once a fortnight.
Geese must not be harried all day. Shooting should generally stop two hours after sunrise and the ground left undisturbed for the rest of the day.
A bag limit of five pink-feet or two greylag geese per gun per shooting session should be observed. Because of possible changes in goose populations, bag limits may be altered from season to season.
Agents and guides must make their clients aware of the law concerning goose shooting, in particular that:
It is illegal to use a semi-automatic or repeating shotgun with a magazine capacity of more than two cartridges for shooting geese or other wildfowl.
It is illegal to use a sound recording to attract geese for shooting.
It is illegal to sell, exchange or barter wild geese or any part of them (only sufficient birds should be shot to satisfy the requirements of the shooters or their friends).
In some parts of Scotland, such as the Orkneys and some of the Western Isles, the localised sale of geese has been authorised. These are the geese shot as part of adaptive management to address damage caused by resident greylags. The geese can only be sold by authorised goose shooters and licensed retail outlets, hotels and restaurants on these islands.
The shooting of ducks and geese in Scotland on a Sunday is prohibited.
Penalties for each of the above offences would be a fine of £5,000 (maximum) and/or a custodial sentence of up to six months.
This code is endorsed by the following organisations in Scotland:
Scottish Natural Heritage
Scottish Land & Estates
National Farmers Union of Scotland
BASC Scotland, Scottish Centre,
Trochry, By Dunkeld,
Tayside PH8 0DY
Tel: 01350 723 226
Fax: 01350 723 227