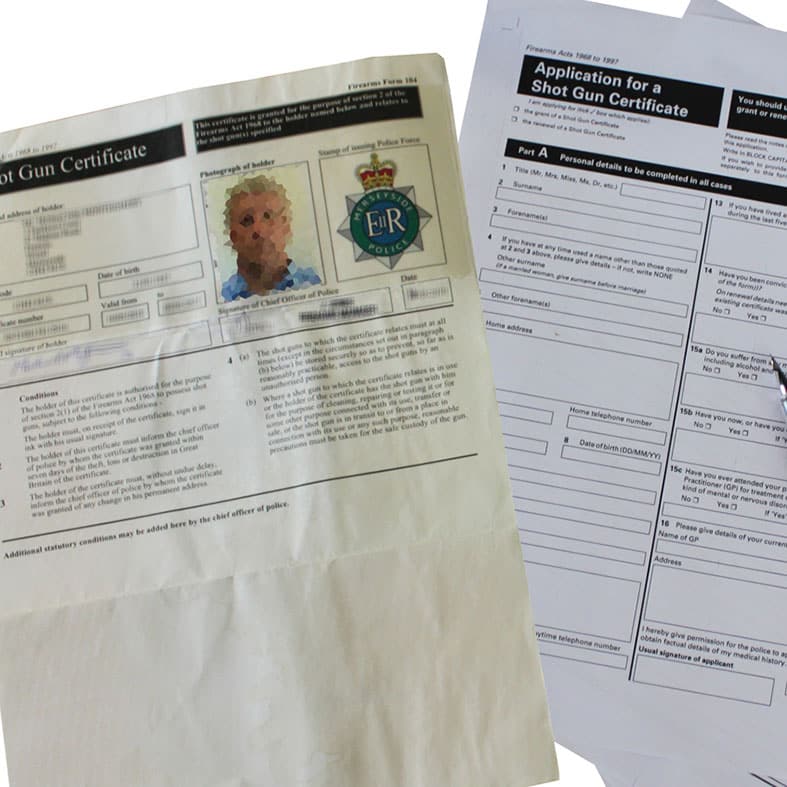 Firearm certificate 'open' conditions
Conditions are a method available to the police to regulate the behaviour of certificate holders where necessary, but they have proliferated over the years and come under many guises. They are known to be widely applied as a matter of course to the majority of firearm certificates whether or not they have any demonstrable benefit.
Accordingly the system of imposing conditions has become bureaucratic and confusing. This page aims to provide advice only about 'standard' and 'less restrictive' (sometimes known as 'open') conditions for quarry and vermin (field) shooting.
What is an open condition?
There is no such thing as an 'open' certificate, as all certificates will carry some form of condition, but quarry shooting conditions are applied in two formats, usually becoming less restrictive over time.
Your first firearm certificate will usually have a condition restricting quarry shooting to "land deemed suitable by the chief officer of police, for the area which the land is situated". This means that any land which you have permission to shoot over must also be approved by the police force for the area in which the land is located prior to shooting taking place.
Note that only one suitable piece of land is required as evidence of your "good reason" to obtain a particular firearm, and that you will not be limited to this one piece of land once your certificate has been granted. If you are, let the BASC Firearms department know.
It is your responsibility to check that any land you have been given permission to shoot over has been checked by the police for that cartridge. If you do not ascertain this, you could be prosecuted for failing to comply with your conditions.
The best way to ascertain whether land has been passed is to contact the police firearms licensing department for that area and ask them to confirm its suitability. If the land has NOT been passed for your rifle, then you will need to write to the licensing department that issued your certificate to ask them to check it or make the necessary request to the relevant force to do so on their behalf.
Once a certificate holder has been shooting safely for a time, the condition may be changed to allow the holder to shoot any land he has permission to shoot over without needing to seek police approval. This is known as the 'less restrictive' or – more commonly – the 'open' condition.
There is little guidance on the subject of timescales, but the Home Office guidance says that the condition may be made less restrictive once the certificate holder has 'demonstrated competence,' that there is no set time for this and that each case should be decided on its merits.
How do I obtain an open condition?
The police will not usually apply a less restrictive condition automatically; you will usually have to ask for a change of condition – which is free. This can be done simply by letter with your certificate enclosed. That said, some police firearms licensing departments do to impose the less restrictive condition once the certificate is renewed – after five years – assuming you have owned and been using your rifle sufficiently over the previous certificate life.
What do the police require to make a condition less restrictive?
In practical terms the police can only really assess whether an 'open' condition may be granted by looking at ammunition usage and the time you have possessed the firearm (not from when the authority was given to purchase it) and whether the holder has come to the attention of the police, ie. through accidents or misuse of their firearms.
On occasion we have been told of police objections to 'opening' certificates, sometimes even denying the condition exists or recommending that a minimum of three or five years lapse before they will change the condition.
For a condition to be 'opened' it will depend on how much shooting you are doing and whether the police believe you to have regularly used your rifle over land without incident. The time before which different police forces will grant 'open' conditions varies considerably.
While the majority of forces assess application with regard to Home Office guidance (see Chapter 10 and appendix 3 of "Guidance on Firearms Licensing Law" 2013 (Home Office)) and look at each case on its merits, some have created policy and set arbitrary timeframes such as one, three or five years.
It is unlikely that any force will grant an 'open' condition within the first six months or so. Individual chief officers are not permitted by law to have blanket policies.
This is established by the case of R – Vs – Wakefield Crown Court, ex parte Oldfield. The ratio of this case says that where a public official has a policy, then if it is to be legal it must admit of exceptions.
Accordingly, forces cannot refuse to entertain requests for open conditions before an arbitrary timeframe has lapsed.
For some, the time will be longer than others dependant on the use of the firearm, eg. a rimfire on average will probably be used more than a deerstalking rifle. The police want to be sure that you are using your rifle to a reasonable level, gaining practical experience while doing so.
What can I do if the police refuse to amend the condition?
Unfortunately, the Firearms Acts does not provide an avenue of appeal against conditions. BASC is keen to see a system which allows conditions to be challenged where necessary and is working towards that end.
Where conditions are not applied correctly in-line with Home Office guidance or on the basis of a specific application taken on its individual merits, you may complain to the chief officer of police. Any response stating that a condition will not be granted because Home Office guidance does not allow is wrong and unhelpful.
The Home Office have clarified with BASC that their guidance is not there to set absolute limits of acceptable practice and may be departed from by chief officers. They further clarify that the guidance was mainly intended to deal mainly with the 'good reason' to acquire firearms rather than their use as such.
Got a question? Email us on firearms@basc.org.uk or call 01244 573 010.
© BASC June 2023