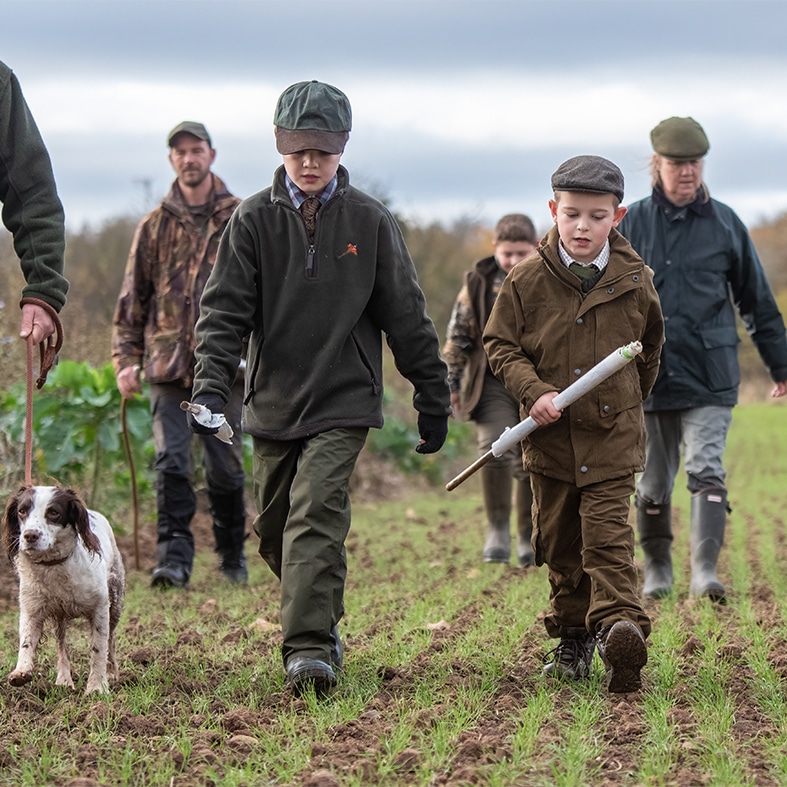 Our membership comes with insurance you can rely on.
At BASC we look after the interests of 150,000 shooting enthusiasts – more than any other organisation in the UK.
We use our size and our experience to support the sport you love and give you the highest level of shooting insurance.
If you are already a member, don't forget to introduce a friend – you could both be entered into an annual drawer to win exclusive prizes for free. See our Member Get a Member page here for details.
BASC is authorised and regulated by the Financial Conduct Authority ref 311937. The insurance aspect of your membership is a non-advised sale and includes Insurance Premium Tax. BASC arranges the insurance and it is provided by an insurance underwriter.
The BASC members' insurance policy is a policy of 'first resort' which means in the event of a claim, the BASC insurance claims team will take on the claim and deal with it, regardless of what other policies you may have in place. We will only seek a contribution from other policies as part of our process in the background, without any delay to the settlement.

However, many of the cheaper membership insurance products that are out there are policies of 'last resort', which means if you make a claim on one of them, the policy will not respond until you can prove that you have no other insurance in place that could cover the claim. If you hold household contents insurance, for example, this will almost certainly cover your personal liabilities and would be forced to respond to the claim before your membership cover.

So, in the event of someone making a claim against you, which would you prefer, make on call to the BASC team and them taking over the claim for you there and then, or a call to another provider who tells you to go and research all your other insurances and only call them when you can prove you have no other cover?

BASC insurance is well-known and widely accepted, including overseas.
You can trust BASC insurance; BASC is fully regulated by the Financial Conduct Authority and is covered by the Financial Services Compensation scheme.
BASC offers a specially tailored insurance package for shooters that comes with a range of additional benefits. Click here to find out why you should join BASC.
The BASC policy only covers recreational activities, however, we recognise that some members will  take a small payment in cash or in kind as a result of their recreational activity. In most cases this payment, such as it is, will barely cover expenses; never the less it's important that members are clear on when the BASC policy will protect them and when or if they need additional cover. Indemnity under the BASC members policy includes the activities of members engaging in recreational shooting activities who make a commercial gain from the sale of meat  or other small income derived from such recreational shooting activities, provided this is not their primary source of income.
However, if you are formally engaged by a commercial shoot to attend on specific days to undertake a specific task such as beating, picking up or loading, then you will be employed by the shoot and covered under the shoots Employer Liability cover.
If you hire yourself out as a loader, coach, pest controller , stalker/ deer manager etc, you will need additional cover for this commercial activity; see here. A professional shooters policy brokered by Aim Risk Services and Underwritten by Sportscover Europe Limited
BASC insurance is a relationship that you can trust, providing a specially tailored insurance package for shooters at great value. Our insurance is well-known and widely accepted, including overseas.
Please note that there are differences in insurance cover for airgun, gundogs and supporter levels.
Marsh Claims Team
Orchard Brae House
30 Queensferry Road
Edinburgh
EH4 2HS
0131 311 4288
To ask any questions about the covers
you have please call
Marsh Insurance helpline
0370 9032 037 option 1
Join Britain's largest shooting organisation today
Gamekeeper
An individual who is a part or full-time gamekeeper.
Find out more
£77 annually
Student gamekeeper
An individual who is at college studying gamekeeping.
Find out more
£31 annually
Gamekeeper and partner
An individual who is a part or full-time gamekeeper.
Find out more
£128 annually
Gamekeeper and family
Two adults and up to four children (under 21) living at the same address where at least one parent is a gamekeeper.
Join by phone only - 01244 573 030 and use your credit or debit card
£179 annually
Phone BASC on 01244 573 030 and use your credit or debit card
Download the form by clicking the icon and send to BASC, Marford Mill, Rossett, Wrexham LL12 0HL