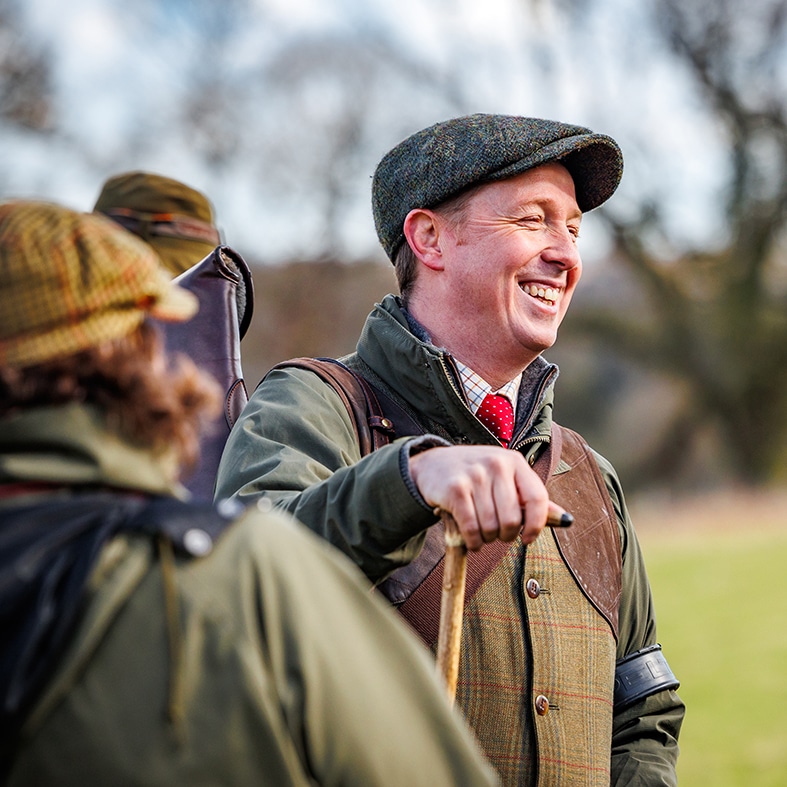 Club/Syndicate
(Six or more members)
Club/Syndicate
Gamekeeper
Once the club is affiliated, each member of the club is covered by the BASC insurance and will receive their own membership card.
All members are covered under the BASC insurance policy, both when they are shooting with the club or syndicate and anywhere else. Cover is worldwide but excludes Canada and North America.
All beaters, pickers up or anyone else helping officially with club or syndicate activities will be covered under the Employer Liability cover provided they are acting under instruction from a club or syndicate member.
Your occasional and official guests can also be included temporarily as insured persons, provided their full names and addresses are recorded before commencement of any insured activity – subject to a maximum of 50% of the party on any one day.
You will receive copies of an official insurance cover note from BASC, that you can give to whoever you lease your shooting rights from. Further copies can be sent free of charge.
The insurance cover includes third party liability for vehicles not compulsorily registered for road use and temporary premises hired by the club.
Cover for dogs injured on shoots from affiliated clubs will automatically apply where there has been some negligence of members during the shoot. The cover will be limited to £2,500 per incident. So, if a dog is injured on your shoot please email the claims team.
Click below to download further details on the membership package for clubs and syndicates. Alternatively fill in the form below for more information.
For more information please email or call 01244 573030.
The General Data Protection Regulations for clubs and syndicates
Where shooting clubs and syndicates are concerned there is no definitive answer to the question, 'Do we have to register under the General Data Protection Regulations (GDPR)?'
However, in most cases the answer is likely to be 'no'. The exemption clause from registering with the Information Commissioner's Office (ICO) for clubs and syndicates would be "Not for Profit". This exempt purpose is intended for small clubs, voluntary organisations, church administration and some charities. For further information click here.
'Personal data' means any information relating to an identified or identifiable natural person ('data subject') who can be directly or indirectly be identified by reference to an identifier such as name, identification number, location data or online identifier. GDPR can apply to automated personal data and manual filing systems.
'Processing' means any operation or set of operations which is performed on the personal data or on sets of personal data, whether or not by automated means, such as collection, recording, organisation, structuring, storage, adaptation or alteration, retrieval, consultation, use, disclosure by transmission, dissemination or otherwise making available, alignment or combination, restriction, erasure or destruction.
'Controllers' determine the purposes and means of processing personal data.
To find out whether you are a 'Controller' you can take the ICO's self-assessment questionnaire here 
'Processors' are responsible for processing 'personal data' on behalf of a 'Controller'.  
What to do when processing:
When processing 'personal data' it should be:
Processed lawfully, fairly and in a transparent manner.
Collected for specified, explicit and legitimate purposes.
Adequate, relevant and limited to what is necessary.
Accurate and where necessary kept up to date.
Kept in a form which permits identification of data subjects for no longer than is necessary for the purposes for which those data are processed.
Processed in a manner that ensures appropriate security of the personal data.
See the GDPR FAQ section here or call: 0303 123 1113 or 01625 545 745.
If you would like to request information held by the ICO in its capacity as a public authority please click here or alternatively contact the Information Access Team by email. 
Information Commissioner's Office
Wycliffe House, Water Lane
Wilmslow, Cheshire
SK9 5AF
Fax: 01625 524510
In addition to the head office in Wilmslow, there are also offices in Scotland, Wales and Northern Ireland. Please send notification forms to the Wilmslow office, not the regional offices.
The Information Commissioner's Office – Scotland
45 Melville Street
Edinburgh
EH3 7HL
Tel: 0303 123 1115
Email
Information Commissioner's Office – Wales
2nd Floor
Churchill House
Churchill Way
Cardiff
CF10 2HH
Tel: 029 2067 8400
Fax: 029 2067 8399
Email
Information Commissioner's Office – Northern Ireland
3rd Floor
14 Cromac Place
Belfast
BT7 2JB
Tel: 02890 278757 or 0303 123 1114
Email