Another record year for hen harriers as 141 chicks fledge in England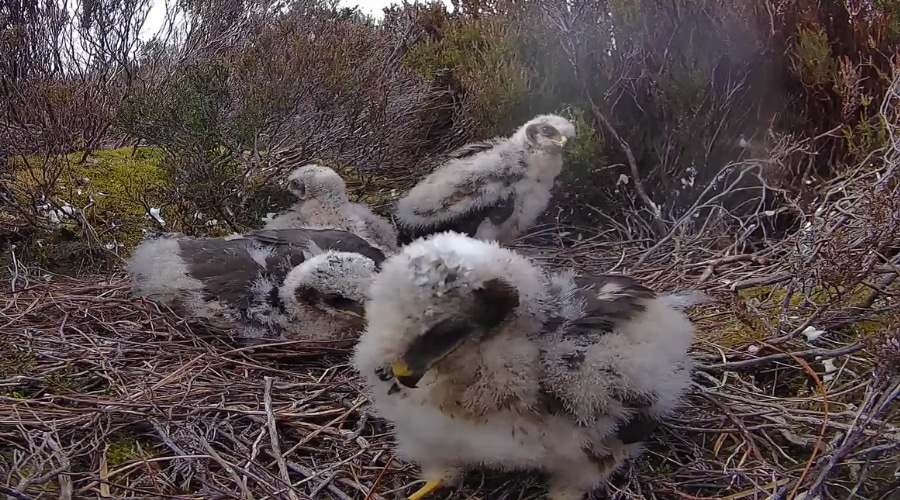 Statistics from Natural England released over the weekend (16 September) show that 141 hen harrier chicks have fledged in England this year compared to 119 last year – the seventh year in a row that numbers have increased.
The increase in hen harrier chicks successfully fledging marks 2023 as another record year, following 119 chicks recorded from nests in County Durham, Cumbria, Lancashire, Northumberland and Yorkshire in 2022. 
In 2023, 54 nests were recorded (up from 49 last year), of which 36 were successful (34 last year). This represents an average of 3.9 chicks per successful nest. Northumberland had the highest number of nesting attempts, 17 in total and the highest increase on the year before where nine nests were recorded. The Yorkshire Dales and Nidderdale area also remained a stronghold, with 15 nests recorded in 2023.
The figures mean that there are now more hen harriers in England since they were lost as a breeding species around 200 years ago. 
Work to protect, monitor and support numbers of hen harriers is part of Natural England's Hen Harrier Action Plan. This includes a number of actions to enable hen harriers to thrive, such as a project to reintroduce the birds to southern England, licences for diversionary feeding and improved satellite tracking.
BASC actively supports the hen harrier action plan as one of several partner organisations working alongside Natural England, including the provision of a BASC Wildlife Fund grant of £25,000 per year over four years (£100,000 in total) to the Moorland Association for brood management. 
The fledglings recorded this year include 24 brood-managed chicks, taken from six nests on grouse moors and reared to fledging in captivity. The brood management trial has recently been extended to further understand the impact this has had on hen harrier conservation.
Further BASC support for hen harriers was announced in November 2022, with part of a £75,000 BASC Legacy fund grant going towards the southern reintroduction programme, which aims to bring hen harriers back to the south of England.
In response to the news, Alex Farrell, BASC's head of uplands said: "The news of another record year for the number of hen harrier chicks fledged in England is incredibly positive. The success of the project is testament to effective partnership working from everyone involved, including landowners, gamekeepers, and organisations such as the Moorland Association and BASC.
"BASC will continue its backing of the hen harrier recovery action plan and would encourage our members and other organisations not yet involved to show their support, too."
To find out more about the work of the BASC Wildlife Fund, head to the BWF website here.