Thérèse Coffey gives keynote speech at BASC rural reception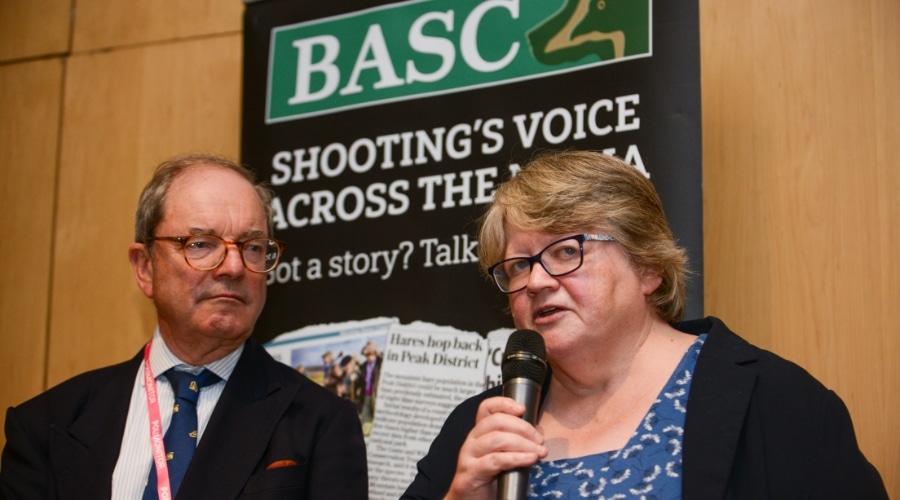 Environment Secretary Thérèse Coffey spoke of her support for shooting when she addressed guests at the Conservative Autumn Conference in Manchester this week.
Addressing hundreds of guests at the Rural Reception, held jointly by BASC and the Angling Trust, Dr Coffey said: "This is one of the most important events of the week for me because it's with the people who really care about our countryside. Shooting is really important to the success of the countryside and I can assure you that the Conservatives are on your side."
Dr Coffey also spoke about the government's response to the Keyham inquests and the fall-out from the decision to limit the release of gamebirds in certain areas of England.
"There have been some serious incidents with shotguns in the last year or so and, obviously, people are still dealing with the consequences of those terrible murders in Plymouth," she said. There was a tension and a reaction, which needed to happen, and which could have made it much harder for people to have shotguns.
"But government understands that it is about having a sensible partnership on this approach; recognising, of course, that the police need to do their job well, while being mindful that there should be a trust in the shooting community."
Dr Coffey also spoke about Defra's handling of the GL43 issue during the summer which has impacted the release of pheasants and partridges in and around Special Protected Areas (SPAs).
"I know there's been another matter this year which has meant that certain shoots, unfortunately, have been restricted entirely or limited," she said.
"The journey on this started a while ago because of avian influenza, but I took the decision to bring this back in-house at Defra. I also made the decision not to just go to the usual suspects for advice, those that officials might want me to go to, but to bring in people who know what is happening on the ground."
Responding to a suggestion that a precautionary approach from government discriminates against shooting, Dr Coffey said: "We try, on balance, to go with a risk-based approach. I hear what you say. There's been some very strong ministerial messages deployed about the importance of this.
"As I have said before, if it wasn't for some of the activities undertaken by the shooting community, we wouldn't have the marvellous countryside we have today. The amount conservation undertaken in the countryside is only possible thanks to those who shoot, farmers and the wider rural community.
"Sensible, pragmatic policies are what you should rightly expect from a Conservative government and what you should expect from Defra and my ministerial team. Three of us are farmers and we represent very rural constituencies. We get it. We live there in the countryside. We live and breathe it. The countryside will continue to be the championed right across this government."
Sir Geoffrey Clifton-Brown, chair of the All Party Parliamentary Group for Shooting and Conservation, thanked the Environment Secretary for her speech.
"You've been very open with us today and I think the key message we take is that you're on our side," he said.
"The Conservative Party, particularly the prime minister, is steeped in the rural aspects of shooting and wider agricultural affairs."
The Conservatives rural reception followed a similar event hosted by BASC and the Angling Trust at the Liberal Democrats Autumn Conference in Bournemouth last week. You can find out more about BASC's political work by heading to our dedicated pages here.