Out and about, BASC in the regions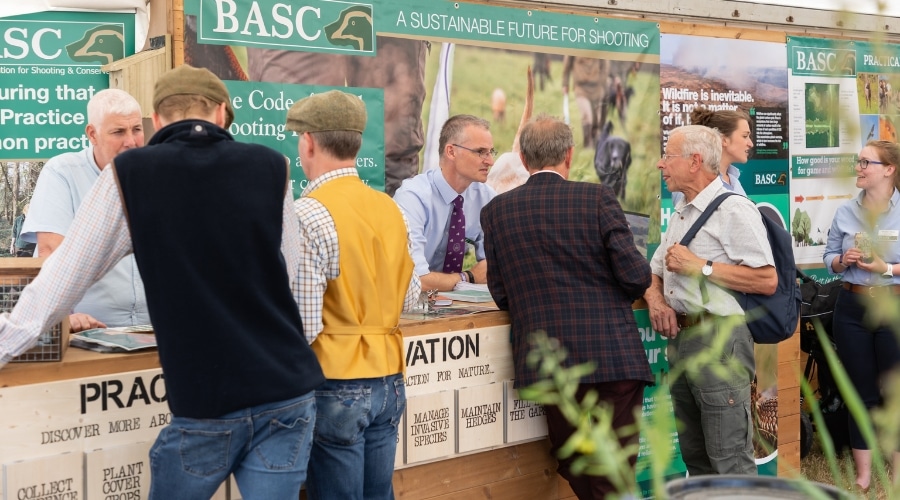 The show season is in full swing, and if you have been fortunate enough to visit any of the UK's magnificent country or agricultural shows you will have most probably walked past or even stopped in at a BASC stand.
At this time of year, our regional teams are spending their weeks and weekends – in fact pretty much every waking – hour preparing and attending shows. Our presence allows us a unique opportunity to interact with both BASC members and non-members to showcase our work and offer advice on the important topics of the day.
Each stand varies in size and stature but always includes a range of experts across the shooting spectrum ready to answer questions, assist with membership and firearms enquiries and generally discuss all things shooting and conservation. 
Each event will include an educational element with an aim of introducing new and/or younger audiences to our sector. Airgunning and shotgun coaching lines are particularly popular, so too are our market-leading shoot simulators.
In the past month BASC has had a presence at shows ranging from the Royal Highland to Highclere Show, and Royal Cornwall to The Lincolnshire Show. Each event involved a considerable amount of preparation, resources and person-power; extrapolate this across all of our teams and you'll get a sense of just how far and wide the reach of BASC attendance travels.
On top of the shows, the teams are busy undertaking a range of educational days, giving us the ability to discuss shooting to a broader dynamic of public. Getting in front of tens of thousands of children every year is a monumental undertaking.
If you are interested in learning more about BASC's regional set up, then please listen to our latest podcast for more information and discussion.
And if you are on social media you can keep up with the teams' fantastic work on their regional channels just search for BASC and the region or country that you're in. 
If you're not sure what region you're in, find out more here.