BASC Northern Ireland Centre, 33 Castle Street, Lisburn, Co Antrim, BT27 4SP 
Telephone: 02892 60 50 50
The BASC Northern Ireland team is fully committed to delivering a premium service to BASC members, which is why we have a 'members first' approach. We are widely recognised, not only for our success in resolving members' firearms licensing issues, but also for our wider work on NI firearms and wildlife legislation.
We continue to lead the way in the Northern Ireland Assembly, as evidenced by our work with the All Party Group on Country Sports, which was established by BASC and our elected representatives in January 2013. Our work throughout NI is supported by BASC head office colleagues, which is why BASC is the organisation that is best placed to promote and protect all aspects of shooting sports in Northern Ireland.
Areas covered: County Antrim, County Armagh, County Down, County Fermanagh, County Londonderry, County Tyrone.
Forest Service has been in contact with BASC to advise that two areas will be offered this year for licenced shooting, Lot 35 Parkmore and Lot 42 Glenone.
These will be a four year period from 2020 – 2023. The same conditions will apply as in previous years. A management plan (including risk assessment) will be required along with relevant insurance documents.
J. A. McClelland & Sons Ballyclare will act on Forest Service's behalf. Members should direct all queries to McClelland and Sons on 028 93 352727 or email Patrick Irvine using p.irvine@jamcclelland.com
Travelling to the EU with firearms
Northern Ireland firearm certificate holders need to be aware of measures that will apply when the UK transition period ends. From 1 January 2021, residents of Northern Ireland will still be able to request a European Firearms Pass (EFP) or use one to travel to an EU country, including the Republic of Ireland, with their lawfully owned firearms.
There is a minor change if a NI resident is sponsoring an EU visitor travelling to NI. An application should still be made to PSNI for a visitor permit like now, but the visitor will not be required to produce a valid EFP. Visitor permits issued before the transition period ends will stay valid until they expire.
If you have any further queries regarding your EFP or travelling with firearms, please contact the BASC NI office on 02892 605050, or email nire@basc.org.uk
BASC has received clarification on recreational shooting during the current Northern Ireland Covid-19 restrictions following ministerial meeting
Read more..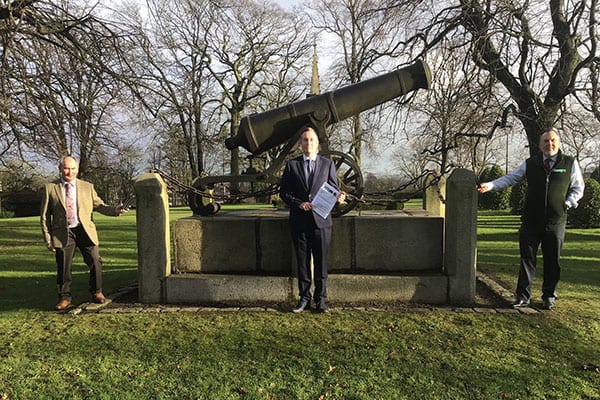 New requirement to list magazines on firearms certificates discussed in depth at meeting between BASC Northern Ireland and Paul Givan MLA.
Read more..
Post-Brexit rules on pet travel in and out of Northern Ireland set to be costly.
Read more..
Fox survey – Can you help?
The Department of Agriculture, Environment and Rural Affairs (DAERA) has once again asked for BASC members' assistance with the collection of fox carcasses.
Every year DAERA collects and tests approximately 320 foxes in order to establish if they carry the tapeworm Echinococcus multilocularis.
This tapeworm is considered a threat to human health where it occurs in many other parts of the world. Foxes killed by road traffic accidents (RTAs) are collected by DAERA throughout the year, whereas shot foxes are only collected from 1 August to the end of March.
If you can provide shot foxes or foxes that have been killed as a result of an RTA, please contact DAERA on 028 77 442399. Alternatively, you can email the DAERA team at RTAbadger@daera-ni.gov.uk.
DAERA can only test fresh foxes (24-48 hours from being killed).
BASC Member Get a Member Northern Ireland
For your chance to win, recommend a friend to BASC to add both your names to the prize draw.
BASC members travelling on the Larne/Cairnryan Irish Sea route can now take advantage of our new and exclusive discount with P&O Ferries
To book ferry travel please first contact the BASC NI office on 02892 60 50 50, to receive our special BASC members' P&O discount code and booking hotline telephone number.
On arrival at the port, members will be asked for their BASC membership card and photographic identification to confirm their entitlement to the exclusive discount.
BASC members can get 15% off their bookings with Stena Line
Log in below with your BASC membership number and password for your offer code and booking information: