MSPs celebrate the very best of Scottish game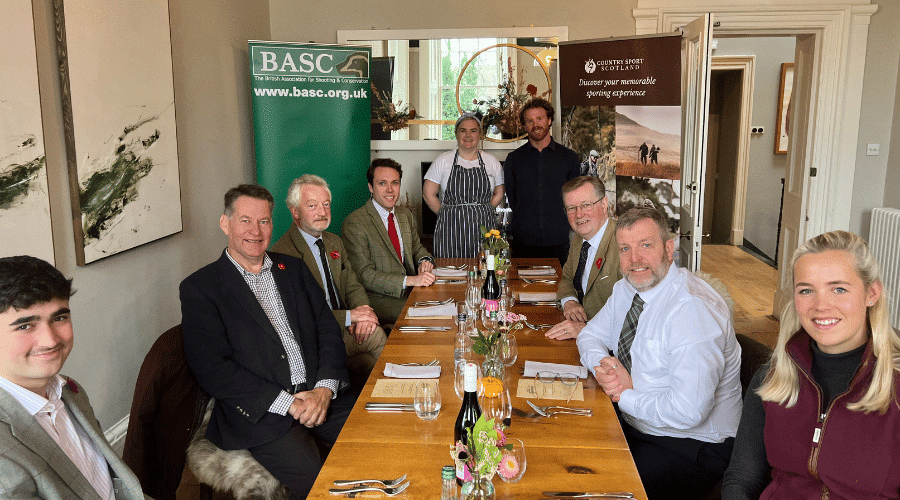 Members of the Scottish Parliament were treated to the best of Scottish game at the Taybank Hotel in Dunkeld, in celebration of Great British Game Week.
BASC and Country Sport Scotland co-hosted the event to promote awareness and the benefits of eating Scottish game.
The lunch was attended by mid-Scotland and Fife region MSPs Murdo Fraser and Alexander Stewart and Rural Affairs (RAINE) Committee Convenor Finlay Carson, MSP for Galloway and West Dumfries.
The Taybank Hotel showcased two delicious dishes, local Kinnaird estate mallard with a salad from its new walled garden and a fallow venison chop with kohlrabi and girolles.
Showcasing the high nutritional value and local provenance of game meat was at the forefront of presentations during the event, with contributions touching on country sports tourism, barriers to market and the impact of upcoming government legislation on Scottish shooting and conservation.
Peter Clark, public affairs manager of BASC Scotland, said: "Great British Game Week is a fantastic opportunity to really show off the very best of what Scotland and the rest of the UK's natural larder has to offer.
"With the various shooting seasons very much in full swing, consumers want to see more game in supermarkets, restaurants and local shops.
"BASC wants to see more support for producers, suppliers and retailers to showcase this wonderful product, as it is part of the fantastic success story that is Scottish food and drink".
Chloe Forbes, project manager at Country Sport Scotland, added: "Sporting tourism is worth £200 million to the Scottish economy, so it is vital that this industry is supported to ensure the two-fold benefit of tourism and food production can grow further."
Fraser Potter, owner of the Taybank Hotel, Dunkeld, said: "The Taybank prides itself on promoting and serving the highest quality local game from around Dunkeld.
"The dishes really showcase the wonderful depth of flavour that game has and demonstrate how versatile it is when it comes to putting together seasonal dishes."