Lytham and District Wildfowling Association receives Stanley Duncan Conservation trophy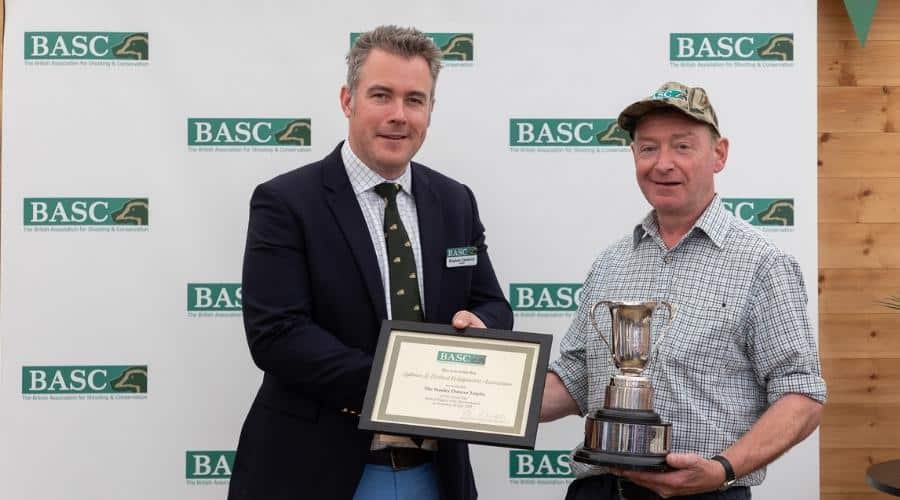 The BASC honours and awards presentation took centre stage on day two of The Game Fair at Ragley Hall yesterday. 
Heading the line-up was the Lytham and District Wildfowlers Association, who received the Stanley Duncan Conservation Trophy. The award is presented annually by BASC to reflect the contribution of a BASC club, group of members or individual who undertake outstanding conservation work.
James Green, BASC's head of wildfowling, said the club had provided highly valued support to BASC, particularly the wildfowling department, by assisting with the development and delivery of a series of Natural England (NE) wildfowling experience days. This included facilitating a visit from Tony Juniper, the chair of Natural England.
Andy Lee, marsh manager at the club, said: "It is an honour for Lytham and District Wildfowlers to be awarded the Stanley Duncan Conservation trophy.
"The club has been committed to conservation since its creation in 1954 and it is very rewarding to be recognised for our work on the Ribble estuary. "We have achieved so much and hope to take LDWA conservation further in the future."
Payne-Gallwey Long Service Award

Four deserving members of the shooting community received Payne-Gallwey Long Service Awards, presented for 20 years or more of local service as an officer of a club or syndicate, or for long-term volunteering.
Maarten White
A stalwart of the Chichester wildfowling community, Maarten has been celebrated for his contribution to country sports with the presentation of this newly-launched award.
Mr White has been a member of the Chichester Harbour Wildfowlers for almost 40 years, serving as committee member, vice chairman, vice president and trustee along the way. 
Known affectionately as one of the 'elder statesmen' of Chichester Wildfowlers' Association, Mr White has dedicated his life to the pursuit of country sports, the sustainability of habitats and facilitating opportunities for people to experience and appreciate our natural and wild landscapes.
He works to inspire people of all ages and abilities to embrace fieldsports, instilling in them a sense of privilege and honour to contribute to the landscape and its occupants, while protecting it for future generations.
John Dryden
John's contribution to shooting has been outstanding at a local and national level, and over many decades.
He has served two terms on BASC Council; and was part of the the Wildfowling Liaison Committee (WLC) for many years, including as Chairman when he was on Council. 
His work managing the output of the WLC came at a particularly challenging time for the sport of wildfowling with complex issues to juggle. The situation was confounded by a wildfowling community that was deeply concerned by the significant restrictions being imposed as a result of the regulative process. 
John was BASC's first regional director in the South West and his commitment to shooting and its ongoing protection has been second to none. His award was accepted on his behalf by his son, Aiden Dryden.
Derek Rogers
Derek has provided essential support to the Bridgwater Bay Wildfowlers Association (BBWA), a BASC-affiliated wildfowling club in the Southwest. He has been a member of the club's committee for nearly 30 years, holding the position of treasurer for most of this time.
Derek's work has helped to ensure the club continues to go from strength to strength and he remains an asset to the club and the sport of wildfowling.
Richard Smith
Richard was nominated for his long service as Shoot Captain and for and his proactive approach in fostering relationships with BASC and his shoot and the wider shooting community.
Although he's now retired, under his captaincy Richard's shoot became the first small shoot to be affiliated to BASC in 1993. 
In 2015, Richard was awarded a medal for 50 years long service at The Game Fair at Harewood House. This had been arranged by members of the shoot without his knowledge.
Ian Richardson Trophy

Kane Bridges
Kane provides highly valued support to BASC's science & research and wildfowling teams.
He has been vital to the development of BASC's wing survey, initially as part of his job with WWT and latterly has remained a key partner in his personal time. 
Special Presentation Awards

Receiving accolades yesterday, too, were the recipients of BASC's Special Presentation Awards. These were as follows:
Richard Bailey
For his ongoing work as an influential gamekeeper, conservationist and coordinator of the Peak District Moorland Group. Richard is a credit to the gamekeeping community, forging excellent relationships with the NGO, BASC, MA and GWCT.
Richard works tirelessly for the greater good of moorland landscapes having developed excellent relationships with the Peak District National Park.
Trevor Bailey
Trevor has been the driving force behind much of the fantastic conservation work carried out by the Gloucestershire Wildfowling and Conservation Association.
Working with BASC, WHCT, WWT the Environment Agency and many more, Trevor has recently led the club to deliver a significant habitat creation project which saw the creation of new ponds and scrapes for breeding and over-wintering waders and waterfowl.
The project has helped to highlight the fact that sustainable hunting delivers biodiversity and that conservation and shooting are intrinsically linked.
Alan Etherton
Alan was nominated for his outstanding commitment and services to BASC. Alan is one of our most outstanding volunteers in the South East.
In a previous year he has attended as many as 20 shows and events for the South East Team, Central Team, and on the BASC airgun line.
He is the first to arrive and the last to leave and was described as a fantastic ambassador for our organisation and shooting in general.
Clare Wilson
Clare was nominated for her continued support of the BASC gundog programme, specifically her help assisting towards the success of BASC's presence at Crufts.
She has volunteered for many years at Crufts, in 2014 she was a judge in the BASC Crufts rings and for at least the past seven years Clare has been a judge's steward – an important role in the smooth running of the day.
Whilst volunteering, Clare also engages members, non-members and non-shooters alike spending time assisting and promoting working gundogs in a professional and pleasant manner. She has also previously volunteered at BASC gundog scurry events and is an asset to BASC.