BASC Legacy Fund aids Great Bustard conservation work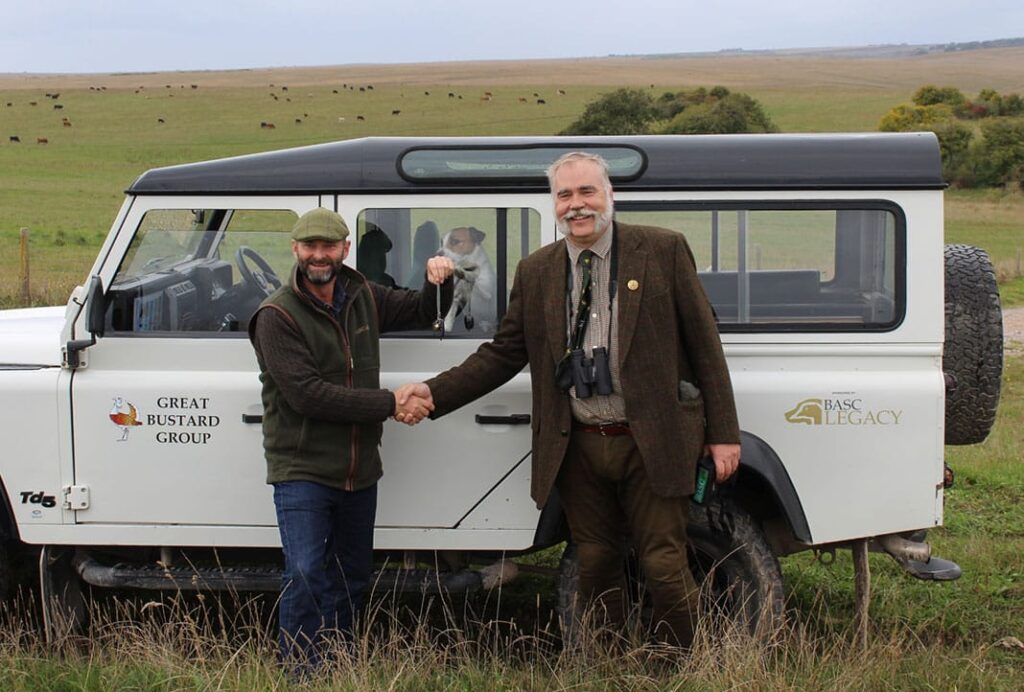 BASC has donated £15,000 to the Wiltshire-based Great Bustard Group to further its work in re-establishing the species into the wild.
The Great Bustard Group was set up in 1998 to explore the possibility of re-establishing the Great Bustard as a self-sustaining species on Salisbury Plain.
Annual artificial releases from 2004 to 2019 have seen the population reach the milestone target of 100 birds in the wild. Since ceasing artificial releasing the population has continued to grow as a result of natural reproduction of second and third generation wild Great Bustards.
The donation provided through BASC's Legacy Fund has gone towards purchasing a Land Rover, as part of the Group's second phase to extend site work and increase tourism opportunities.
Members of BASC and the Great Bustard Group
Speaking at the official unveiling of the Land Rover, BASC chief executive Ian Bell said: "The Great Bustard Group has undertaken a huge amount of work in reintroducing the Great Bustard to the area.
"The Group is an exemplar of local stakeholders working together to undertake practical land management for the benefit of nature and the economy.
"This legacy funded donation will help push them towards further success."
David Waters, executive office of the Great Bustard Group, said: "The Great Bustard Group is dependent on the support from individuals and organisations. 
"The tremendous support from BASC has significantly increased our capacity to host visitors to the project and this leads to long term self-funding – a crucial factor. 
"This funding will lead to habitat creation and management which will benefit Great Bustards and many other farmland species such as stone curlew, grey partridge and quail."