In mid-April I spoke to Edward Bromet, former chairman of the Moorland Association, moor manager and a keen grouse shot. 
Edward has many years' experience under his belt and is a moor owner himself. The story of grouse shooting in his family began in 1952. His grandfather bought a share of half of the Bingley moor then. Edward was then given his share from his father in 1988 when he was just 19. Although Edward enjoyed all types of shooting, he did not get involved in the running of the Bingley Moor shoot until later. Major Bingham ran the shoot until 1997 and then, at around 30, Edward was left to manage the moor by himself. 
Initially, it was run by a land agent, however, that didn't go as well as hoped and the grouse numbers were poor. So, Edward did his research, which included reading books such as Grouse in health and in disease (1911), a well-known book source of information for grouse moor managers. In addition, Edward also attended seminars and moorland association meetings to learn as much as he could. 
The low point for the moor was in 2005 when Edward only saw one grouse on the moor and there was no shootable surplus. Climate change had begun to affect the grouse. Without cold winters a parasite called the strongyle worm that lives in the bird's stomach was not killed off and therefore left to multiply and spread via grouse faeces. Grouse can die from the parasite infestation. It wasn't just the grouse on Bingley Moor that suffered at that time. Other grouse moors were also affected. Some owners left and gave up. This opened up opportunities for new moor owners to come along and transform their management.
Time to turn things around
On Bingley Moor, Edward made sure there were enough keepers to effectively manage the moor and that they had the right equipment. In 2008, Edward was awarded a ten-year lease to manage and shoot on the moor at Ilkley. He also managed another moor at Ilkley. The condition of the moor was so poor when Edward took control that it took two years of hard work to reach a point where there was a surplus of grouse. It took even longer before the moor was back in good shape. 
Unfortunately, the local council has not extended the ten-year lease, pressured by anti-shooting campaigners (see here) and so the management has ceased. Edward pointed out that now that the management responsibility has been left to the council, the moor may decline again. While the council may still look after the moor, the funding must come from public spending (see an article on this here). When privately managed, moors have dedicated gamekeepers employed to manage the land and large private investments to support the health of the moors. 
As Edward reminded me, the top priority is not grouse shooting. It is moorland management; grouse shooting is a side product of this effective management. In fact, when the moors are in good health, grouse numbers need to be reduced to a healthy level for the moor to continue to thrive. 
Parasite defeated at last...
Grouse shooting survived its many challenges, and after 30 years of failed experiments, medicated grit that would clear the strongyle worm was introduced. The grouse naturally ate the grit to help with digestion. So this was an ideal combination of a perfectly natural solution and science. This grit, combined with heather burning, predator control and good management meant that grouse numbers began to steadily increase. From the low point of 2005, there is now a healthy surplus on the moors Edward manages. It meant that many good days of shooting took place on the moors. This work has been recognised and in 2015 Edward's moor won the Gold National Purdey conservation award.
What is involved in managing a moor?
The heather that feeds many species on the moor must be kept in good condition. That is why keepers carry out so called 'cold' burning to help the heather regenerate. If it is a protected site, burning on peat deeper than 40cm can now only be done under licence and in places where mowing is not viable, or for health and safety or scientific research reasons. These burns are undertaken not just to keep the heather healthy and able to sustain the animals living on the moor. This is yet another important objective is to reduce the risk of wildfires. And pests and predators are also controlled to keep the natural balance on the moors.
Edward said the intention of management is to help all endangered birds like waders and curlews, along with allowing the grouse population to breed and live successfully. The medicated grit must be appropriately used and comply with the food regulations. Along with this, the infrastructure such as the grouse butts, stone walls, fences and tracks have to be maintained. A large part of the management includes agri-environment and stewardship schemes and ensuring those are fulfilled. Moorlands are very sensitive environments and are extremely rare. As a nation we are lucky to have such beautiful moors. As rare and beneficial as they are, they must be respected and looked after.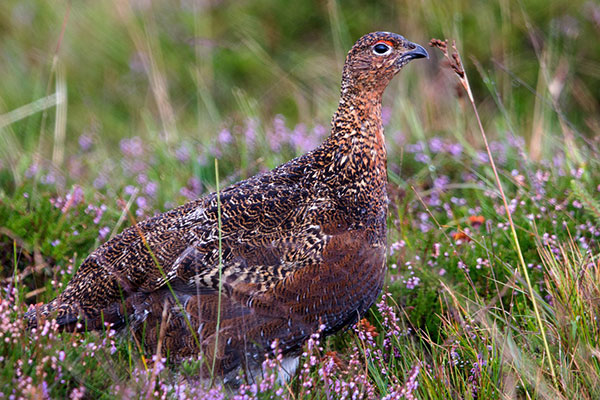 Driven grouse shooting has some different aspects which sets it apart from driven pheasant shooting. First, the location is heather moorland, and the quarry is the completely wild grouse (they cannot be farmed). There is a beating line that walks across the moorland driving the grouse forward to the Gun line. The Guns are hidden in grouse "butts" which are small dry-stone squares dug a little into the ground so that you are a foot or so lower. The beating line starts far away from the butts at around a mile or so. The grouse are flushed out and fly towards the Guns who try to take the birds flying in coveys at head height at speeds of up to 80mph. It is very fast paced, and the birds are unpredictable and wild!
Grouse shooting came into popularity with the invention of the boxlock shotgun in the 1860s. This was an incentive to improve our moorlands. The 1911 book on grouse is one of the best publications about the birds but Edward says there is still some mystery about how to get the best results and often it is down to chance as to what the outcome will be. The season starts on 12 August and Edward says around half of the days are shot in August. Lower moors start their big push a little later, around September time. The season ends on 10 December. 
There are four species of grouse. Red grouse is the most common species found in the uplands. Then there is black grouse which have been successfully saved from extinction. The ptarmigan lives in Scotland and finally, the biggest of them all is the capercaillie, which also lives in Scotland. Of the four species red grouse and ptarmigan are most commonly shot. However, where numbers are high enough, black grouse can also be sustainably taken.
Grouse themselves cannot be artificially reared and they cannot be put in an incubator to hatch. They are truly wild birds and that is what makes them so unique. The only way to increase the number of grouse is to make sure the moors are in top condition and the grouse will do the rest. A key indicator of a healthy moorland is a variety of species present – from plants, insects and reptiles to mammals and birds (such as raptors and waders), which is very important for conservation. It seems to me that the better the condition of the moor, the better the grouse shooting – they go hand in hand. 
How do you get into grouse shooting?
I asked Edward how difficult it is for someone to get into grouse shooting. He explained it was not just the money required to get started. In the case of the moor he manages, he said that even an experienced shot would need some training time at a shooting school to prepare for grouse. 
Even then, on their first few shoot days, they should insist someone accompanies them in the grouse butt to make sure they were shooting safely. This is because grouse fly at head height with a beating line coming forward and if the Gun wishes to turn around and shoot as the birds fly over and away, they must unmount their gun, turn around, remount and only then shoot. This is for the safety of the beaters and other Guns. 
The speed at which the shooter needs to do this is impressive and so they must have plenty of practice so that they are safe on a shoot day. Edward said himself he was not allowed to shoot until he was old enough to be trusted. Even then, he was on the end of the Gun line and only over time. As he got more experienced, he moved closer to the centre of the action. 
Grouse shooting is accessible to anyone determined to become a safe shot. It is worth noting there is some affordable grouse shooting if you look hard enough. There was an article by Gareth Dockerty on that in July/August issue of the Shooting and Conservation magazine, which will be available to read online in September. 
Threats to grouse shooting
I knew that Edward, as a former chairman of the Moorland Association, would know the issues that grouse shooting faces in modern times. He said the sport is likely to come under greater scrutiny and there is a real chance that it could be banned in the future. Arguments made against moor management incentivised by grouse shooting are:
People don't agree with predator control.
Some believe heather burning is bad, and that on peatland it can release many tonnes of carbon dioxide.
Some say the medicated grit fed to grouse to treat the birds against the strongyle parasite is "man-made" and therefore the grouse are not truly wild.
The opposition grouse shooting faces is stiff and the arguments cannot be dismissed without proper consideration. However, in defence of grouse shooting, heather burning is important for moorland regeneration. Sporadic wildfires are less damaging if the moor is not overgrown. It is far better to burn sections in a controlled manner than let massive wildfires blaze through vast areas. You can read more about heather burning here.
Predator control is a necessary part of moorland management to protect not only grouse but other ground nesting birds and endangered species.
Finally, medicated grit is a solution which allows grouse to remain healthy. Let's remember that the issue of the strongyle parasite has been made worse by climate change. Grouse and other small fowl eat grit to help with digestion and form eggshells naturally. Edward says that conservation concerns will win in the end. But the question is how. Will the moors be conserved privately by grouse motivated individuals? Or will it be people purely motivated by conservation who have the money to look after the moors without grouse revenue? Or will the government support be the only option?
My final question to Edward was whether grouse shooting is the best type of shooting? To which he simply answered: "Yes, it is." He said it is the most exciting, unique and special type of shooting you can take part in. Mr Bromet said that he has had many great days shooting quarry other than grouse. But once you have shot grouse there is little that can provide the same thrill and challenge.