BASC Legacy Scholarship 2022 winners announced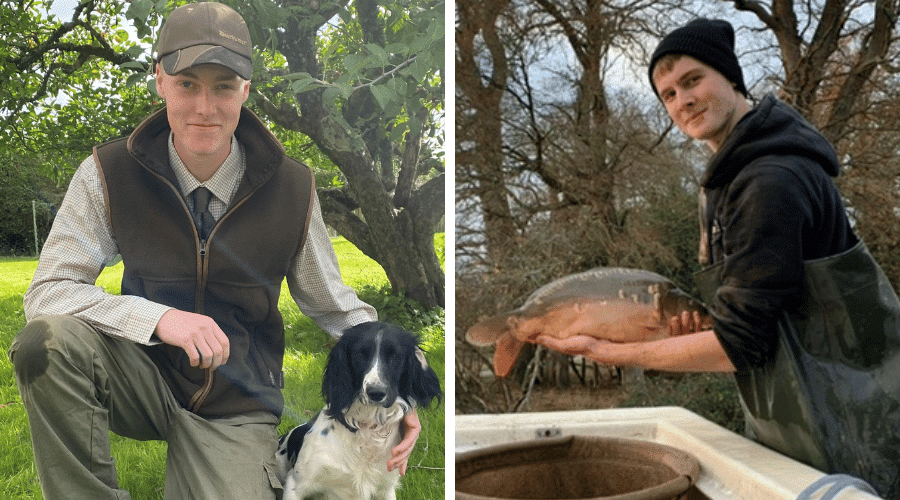 This year's recipients of the BASC Legacy Scholarship Programme have been announced as Sparsholt College and University Centre students Jake Bennett and Jensen Collingwood.
The scholarship programme is one part of the BASC legacy package that helps support people who want to develop their knowledge of conservation, land management or gamekeeping. Each applicant can apply for a grant of a maximum of £4,500 to help them continue their education. 
Now in their fourth year, this year's scholarships were awarded in memory of Mr Herbert Heywood, who kindly left a legacy to BASC.
Jake Bennett (left), who is studying for a Level 3 Advanced Technical Extended Diploma in Land and Wildlife Management (Game), said: "The news that I had been shortlisted for the BASC Scholarship was a total surprise to be honest, and to be selected as a recipient has made my year.
"I've been passionate about gamekeeping and the countryside since I was very young. I love the outdoor lifestyle and being immersed in nature. I hope to play a small part in continuing and developing this way of life for the future and the BASC Scholarship will enable me to afford my studies at Sparsholt."
Jensen Collingwood (right), who is studying for a BSc (Hons) Aquaculture and Fishery Management, added: "I was overwhelmed by the support I've gained from BASC when successfully gaining the scholarship. As part of a family that has always supported the great work BASC does, it's amazing to have the opportunity to work with BASC further as I continue my studies in fishery management and aquatic science at Sparsholt to bachelors level."
Curtis Mossop, BASC's head of education and outreach, oversees the programme and sat on the interview panel. He said: "BASC continues to provide support by removing financial barriers which could otherwise halt a young person's educational journey.
"Once again we had some fantastic applicants which made the interview selection process as difficult as always, but we have two great recipients in Jake and Jensen and BASC looks forward to supporting them on their educational journeys."
Anna Hare, education officer at Countryside Learning, was also on the interview panel. She added: "The BASC scholarship programme is a vital support to the education of the successful applicants, and I only wish that we could have offered more scholarships. 
"The students were clearly very knowledgeable about the countryside and their fieldsports and what better way to encourage the next generation of gamekeepers, stalkers, fish farmers and ecologists?"