Hen harriers feature on new WHT stamp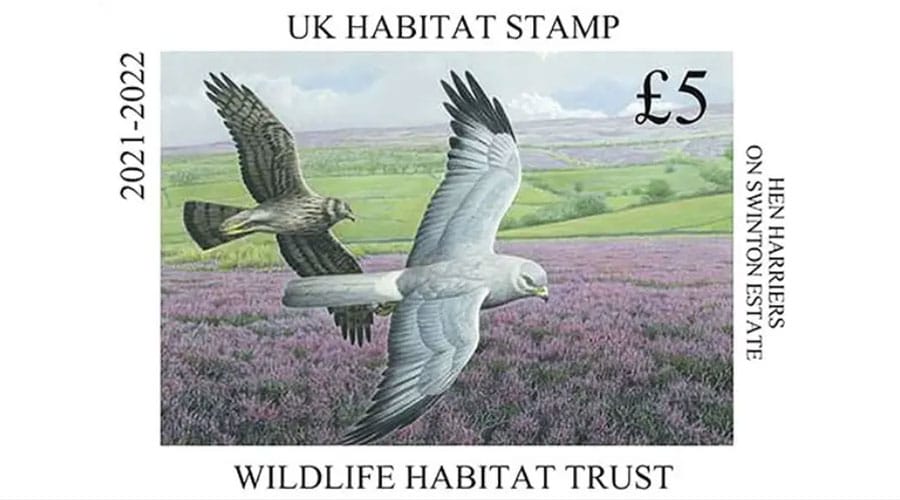 This week sees the launch of the 2021 Wildlife Habitat Trust (WHT) conservation stamp, featuring a painting of a pair of hen harriers flying across open moorland as its subject. All money raised from the sale of the stamps will go directly towards supporting hen harrier conservation.
Painted by leading wildlife artist Simon Turvey, the male and female hen harriers are depicted flying over the Swinton Estate in North Yorkshire.
Wildlife Habitat Trust Charitable Trust grant
Funds raised by the WHT stamp will accompany a £4,800 grant awarded to the Swinton Estate by the Wildlife Habitat Charitable Trust earlier this month. The award will fund the estate's hen harrier surveillance cameras.
The stamp's subject of hen harriers "illustrates BASC's and the WHT's positivity in their recovery." said Paul Williamson, WHT secretariat and BASC's head of land management. He continued: "Our organisations are committed to BASC and the WHT's commitment to "the conservation of hen harriers and other raptors across the UK."
As a renowned wildlife artist, Simon's acceptance of the 2021 habitat stamp artwork commission has left both organisations thrilled with the outcome.
Role of the WHT
The WHT provides an important source of funding for shooting and conservation related activities.
All the money raised by the sale of the habitat stamps and other merchandise is used to facilitate land purchase for shooting clubs or provide support for conservation projects. To date, it has enabled 4,200 acres of land valued at date of purchase at £3.7 million to be bought by BASC-affiliated shooting groups.
The Wildlife Habitat Charitatble Trust has also awarded grants of in excess of £350,000 for conservation project both in the UK and internationally.
By purchasing the stamps, you will be making a direct contribution to hen harrier conservation.
The stamps can be obtained through the WHT shop along with prints of Simon Turvey's depiction of the hen harriers. All items are available to purchase now.