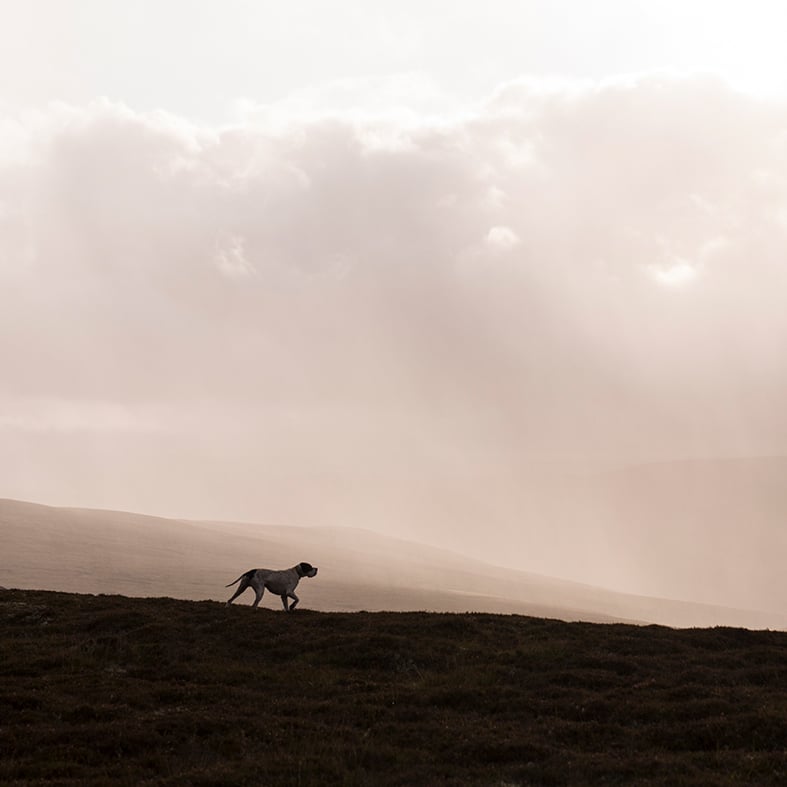 UK dog theft has been on the rise for several years and was particularly prevalent during the Covid-19 lockdowns. The enforced time at home led to more people wanting dogs, creating high demand and resulting in increased thefts, putting the most popular breeds at risk. 
Working gundogs are especially sought after. They are renowned for their good pedigree, sociable nature and are typically well-trained. All the attributes that make them indispensable for gamekeepers and those who work in shooting, also make them a high-value target to steal and sell on or breed from. Gundogs are also more likely to be kept in kennels outside or in unlocked vehicles on a shoot, making them easier targets too. 
It is now a legal requirement to have your dog and for it to wear a collar with an identification tag in public places, unless under specific circumstances. Ensure your details are kept up to date so that in the event your dog is stolen or lost and then recovered, you can be contacted without delay. 
There are a number of ways you can prevent or deter gundog theft, both at home or at events and shoots:
Keeping your dogs in your home is the safest place you can keep them. 
If a dog is stolen from a house the perpetrator can be charged with burglary as well as theft which is an added deterrent.
If your dogs are kennelled, ensure your kennel is in close proximity to and in view of the house. 
Try to minimise vehicle access to your kennels and think about the overall security of its surroundings. Is there a low fence that could be made higher? Is there anything you can do to add an extra level of deterrent to potential criminals looking to gain access?
Consider installing gate sensors or bells and motion sensor security lights.
Install a Wi-Fi camera in your kennel, enabling you to check on your dogs throughout the day and night. Prices start from as little as £25.
While dogs should never be left alone in vehicles when travelling, always make sure they are in a secure transit box that you are able to lock. Consider using alarmed padlocks and having tinted windows. These can help obscure the view of passers-by looking in.
When parking your vehicle with a dog inside, try to reverse up against a secure area such as a wall. This will make access to the back of your car or pickup much harder to gain entry to. 
Avoid taking multiple dogs if they won't be with you all day. This may not always be possible, but you should minimise the time that a dog will be alone for.
Avoid advertising what dog you have in your vehicle or at home with stickers or signs on your car. 
Think carefully before posting on social media. A photograph of your dog with your vehicle registration visible or with a recognisable landmark could help a motivated thief locate your dog.
Additional measures to consider
Try not to leave your dog unattended. Even if you are just popping into a shop, leaving your dog tied up or loose unaccompanied in a visible garden can create an opportunity for gundog theft.
If you're not planning on breeding from your dog, consider having them sprayed or neutered. The majority of dog thefts are done for the purpose of breeding to maximise profits.
Consider varying the times of your walk and the routes you take with your dog. Some dogs have been targeted and snatched during walks. If you are concerned about walking your dog alone and cannot be accompanied by a friend or family member then look to invest in a personal protection alarm. These are relatively cheap devices and, unlike some other personal protection items advertised online, are legal to use anywhere.
Take regular photographs of your dog, noting particular markings and features. This will help the public and police identify your dog if it is stolen. 
Puppy theft awareness & preventative measures
A litter of pedigree gundog puppies can be a high-value target for thieves. When advertising a litter of puppies for sale, it's crucial to be vigilant of all prospective owners.  
When speaking to prospective owners, speak to them over the phone before inviting them to view the litter. This can ensure they are genuine buyers and make sure you ask them questions. 
Never give out your address unless you are satisfied the individual is genuine.
Always take details from all prospective buyers.
Never be alone when a prospective buyer comes to view the litter.
If the litter is kept in a kennel or outside building, consider moving them indoors for all viewings so that prospective buyers do not see your kennel set up and any other dogs that you may have.
Consider having CCTV and motion sensor lights fitted. Entering a home that clearly states it has CCTV can deter criminals.
What to do if your dog is missing or considered stolen
Call the microchip company your dog is registered with and register them as missing.
If you suspect your dog has been stolen, contact the police and obtain a crime reference number.
Contact your local vets, dog warden and kennels/charities. Let them know your dog is missing. If they are handed in or found, this will help them to contact you quickly.
Check online and register your dog as missing. DogLost is a free national database run by volunteers who will help you search for your dog.
Create and put up notices in your local area to make people aware there is a missing dog and who to contact if it's found.
Use social media to advertise your missing dog. This can help make more people aware there is a missing dog and could make them 'too hot to handle' deterring criminals if your dog has been stolen.
What to do if you find a lost dog
If the dog appears to be scared or wary of you, contact the local dog warden and give them the location of the dog. Many dogs will act this way if they have been missing for a few days or more.
If you manage to secure the dog, check its collar tag if it has one or take the dog to a vet or rescue centre to be scanned for a microchip. They will then attempt to contact the owners and make arrangements for the dog to be collected. 
If the dog is not microchipped or the contact details are out of date, and you have the dog in your care:
Ensure the dog is reported to the local authority.
Report the missing dog to all your local rescue centres and vets.
Spread the word on social media and in your local area, you can also register the dog as 'Found' on DogLost.
If you are contacted by someone claiming to be the owner, do not arrange to meet with them unless they can prove ownership. If you are in doubt, contact your local dog warden or rescue centres to assist. 
Once a dog and its owner are reunited, it is important to inform those who are still looking that the dog is safe and sound. Take down posters, update databases and social media posts.