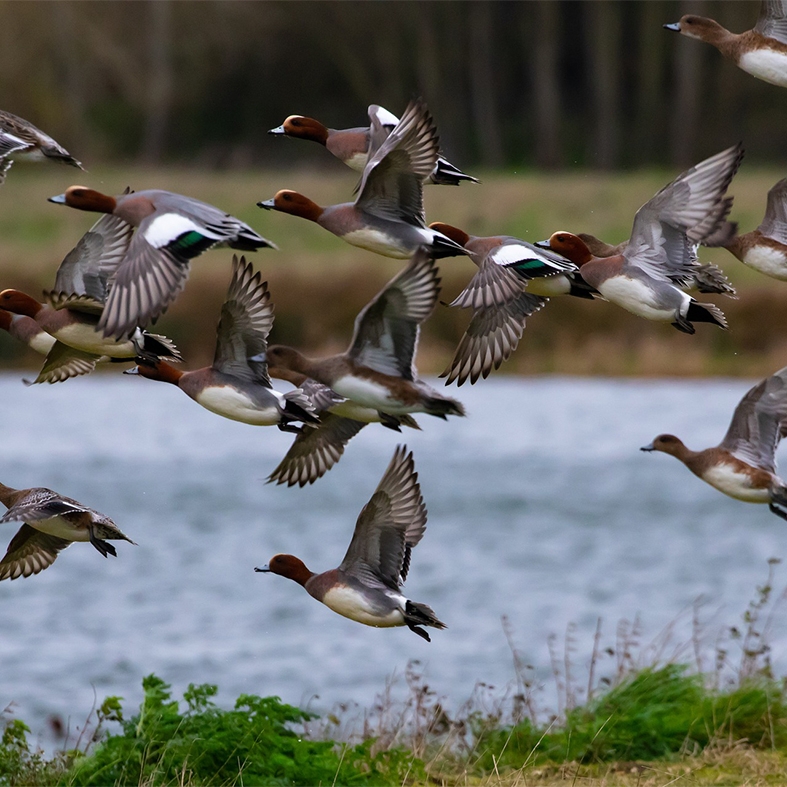 Project Penelope is a project led by the Waterfowlers' Network. This is an international organisation made up of partners aiming to improve data collection, waterfowl habitats and sustainable management of waterbirds.
Project Penelope specifically aims to collect data on the Eurasian wigeon (whose Latin name is Anas Penelope, hence the project name) across the species' migratory flyway.
Using a combination of traditional (ringing) and modern (GPS-tracking) techniques, this project aims to follow the migration of wigeon and gather data on how they use the European Protected Site (EPS) network and the landscape (EPSs are areas that have been set aside to protect particular species and habitats).
This invaluable information on habitat use, the species movement, and population composition (including reproduction and survival rates), will help in assessing how well our protected sites support wigeon, as well as help to inform decisions regarding sustainable hunting.
Project Penelope launched in 2021 and will run until 2024, with fieldwork taking place in Finland, Denmark and the United Kingdom.
Other project partners include The Danish Hunters' Association, Aarhus University, Turku University, Helsinki University, and our dedicated volunteers.
The project is funded by the Wildlife Habitat Charitable Trust, The Danish Hunters' Fund for Nature and the Ministry of Agriculture and Forestry of Finland.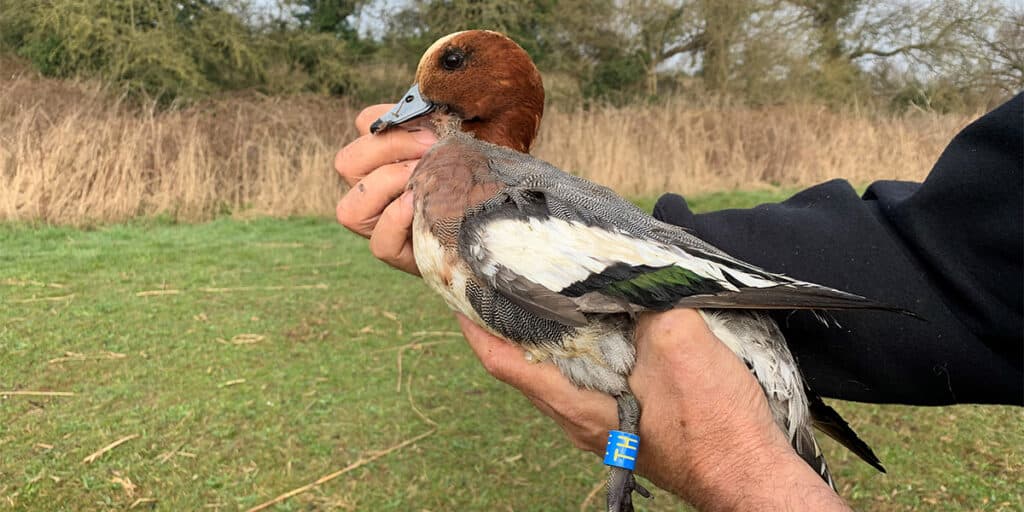 Why is this project important?
Eurasian wigeon are one of Europe's most popular quarry ducks, however, the information we have about this species and their movements is lacking or outdated. It is our responsibility as a shooting community to ensure that our quarry populations are healthy.  
Project Penelope will provide a basic understanding of the relationships between breeding sites, staging sites (places where migrant birds stop to rest, drink, and eat) and wintering sites (where wigeon go on their migration) and the pressures they face in each location.
By understanding wigeon survival, breeding success and harvest numbers across their range, we can find out where the population needs the most conservation action. In turn this will help guide the practical work, such as habitat creation, that we undertake in the UK.
A key part of Project Penelope is based on sightings of colour-ringed individuals and ring submissions. If you come across any ringed birds, you should submit your findings to the reporting site for this project.
To submit a colour-ring sighting or findings, please submit the details through Project Penelope's reporting site or email us at BASC.
Sightings of metal-ringed only birds can be submitted through the national ringing scheme through Euring.
So far, 806 wigeon have been colour-ringed and 203 of these birds have been recaptured at wintering grounds where they were originally ringed. There have been 54 re-sightings of ringed birds and seven birds were found dead.
This map (picture below) shows some of the ringing locations in the UK and where the wigeon were recovered in Eastern Europe and further afield. Some of these recoveries of UK-ringed birds were in Belarus, which is a rare and interesting finding.
A total of 70 GPS tags have been deployed in Finland so far. The tracks of the wigeon movement are impressive so far.