BASC Ladies Star of Shooting award winners announced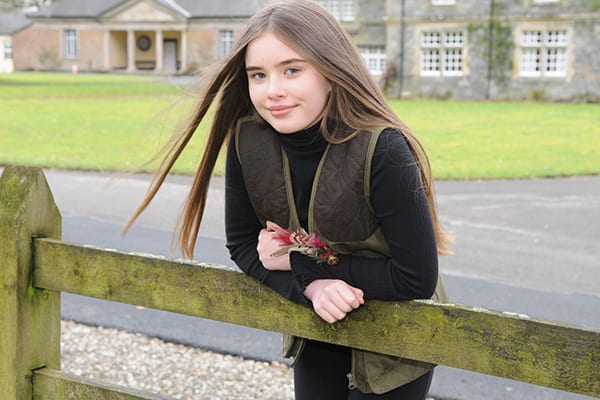 The three winners of the 2020 BASC Ladies Star of Shooting awards have been announced.
For the first time, the awards were split into three categories – Target Shooting, Game and Gamekeeping and Field to Fork.
The winners are Ellen Winters in the Target Shooting category, Amy Moore in the Game and Gamekeeping category and Sue Critchley in the Field to Fork category.
Eleven-year-old Ellen Winters is the only female member of her target shooting club and has been shooting alongside her father since she was three years-old. She has won her club's U18 sporting rifle trophy three times. She also competes in the adult sporting rifle rimfire competition, is a keen picker-up with her English springer spaniel Emma and joins her father deer stalking.
She said she was "really pleased" to have won the award.
Under-keeper Amy Moore's hard work, dedication and passion for her job goes "above and beyond the call of duty" according to the many nominations she received. From pen building to staying up all night on fox patrol to ensure the safety of the birds, no task is too arduous for Amy. Newcomers have expressed their gratitude at being taken 'under Amy's wing' as she helped them navigate their first game shooting experience.
Amy said she was "delighted and surprised" to be nominated and "to have won this award for doing the job that I love".
Sue Critchley creates game pies, stews and casseroles and hosts her own 'Taste of Game' dinners with partridge, duck and pheasant on the menu.
Sue said: "I am humbled to have been chosen as recipient of the Field to Fork award when there are so many well-deserving game cooks out there. The fact that my children thought to nominate me makes me very proud. Having been a farmer's wife for 45 years, I have experimented with many game dishes, and I'm delighted that my family are carrying on this tradition, introducing recipes of their own – though my game pie is still the best!"
The Sporting Lodge and Barbour sponsored the awards this year and each of the winners will receive a Barbour waxed jacket along with their awards.
BASC Ladies Shooting organiser Kathleen O'Connor, said: "2020 marked the fourth year the BASC Ladies Star of Shooting awards have been held.
"We would like to thank everyone who took the time to nominate in the three new categories. It is always a difficult task to choose a winner from the outstanding calibre of candidates and this year we had a record breaking number of nominations.
"Our panel chose Ellen, Amy and Sue as they each represent the best of our sport in their respective categories. It gives us great pleasure to recognise the work and dedication that these women put in so that we can all continue to enjoy shooting."
Tim Gardiner of The Sporting Lodge congratulated the winners and said: "The BASC Ladies Star of Shooting awards has been a great example of the organisation's commitment to championing all forms of shooting, from competition to grass roots. The Sporting Lodge is honoured to have sponsored this event alongside such a prestigious brand as Barbour. We hope each winner wears their jacket with pride as they continue with their outstanding contributions both in and around the sport."
Notes to Editors:
For more information on the BASC Ladies Star of Shooting awards please visit the website – https://basc.org.uk/ladies/basc-ladies-shooting-awards/
Interviews and further quotes are available via press@basc.org.uk