Red signal crayfish linguine
American signal crayfish were bought to the UK from North America as farmed seafood. They have now spread widely through Britain and have a negative impact on native species and the environment. 
They carry a disease that kills our native crayfish, erode riverbanks by burrowing, and predate on the eggs and fry of our native fish species. Their numbers have grown dramatically, and they can be found all over the UK in all types of water bodies.
Luckily, trapping these species is easy – the environment agency provides free licence and you must comply with their regulations on trap size and tag your traps. Landowner permission is often given by angling clubs as the signal crayfish have a detrimental effect on the fishing. 
Simple traps with fish bait work well and result in big catches. Some studies, however, show that trapping is not a solution as it only removes the large, cannibalistic males but in some areas it has a good effect.
Once caught, it is best to 'purge' the crays for 24 hours by keeping them in a large tank of fresh water and regularly change the water. This removes any unwanted flavour and empties their gut. They can then be cooked in several ways – treat them like mini freshwater lobsters and the possibilities are huge.
Red signal crayfish linguine with courgettes and chilli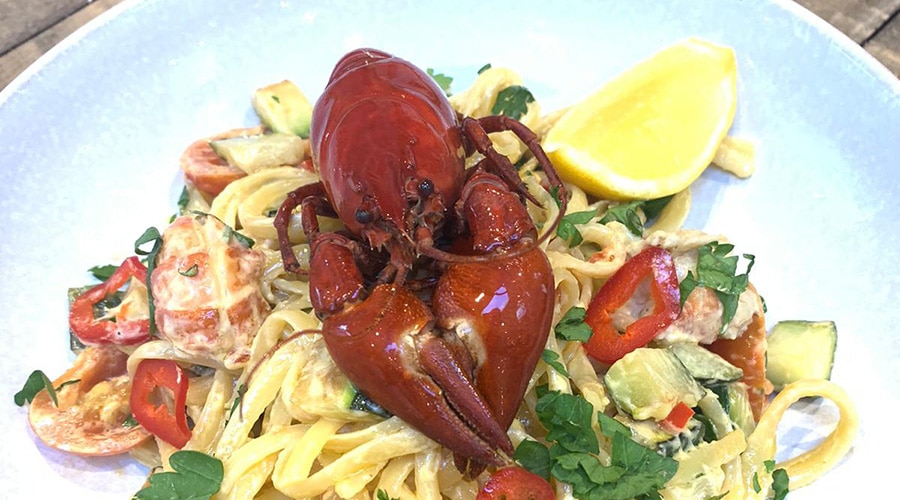 Crayfish are lovely on the BBQ or just boiled and peeled if you have lots of them.  This pasta dish will be perfect for any dinner party, and the bonus is that we are helping to save our native species and protect our riverbanks.
20 American signal crayfish
500g dried linguine pasta
2 courgettes, finely diced
1 red chilli, seeds removed, finely diced
200g cherry tomatoes, halved
2 garlic cloves, finely chopped
2 banana shallots, finely diced
1 glass dry white wine
1 handful parsley, finely chopped
100ml double cream
50g grated parmesan (plus a bit extra for serving)
2 lemons
olive oil
salt and pepper
chilli oil
After purging the crayfish in fresh water for 24 hours, bring a large pot of water to the boil. Add a large pinch of salt and drop in the crayfish. Bring back to the boil and cook for 4 minutes.
Remove the crayfish and allow to cool. Keep 4 large specimens to garnish the dish.
Break off tails and carefully crack the tail shells for the remaining crayfish. Scoop out the meat. Remove any leftover black waste pipes you find. If the crayfish are large, crack open the claws too and remove and the meat.
Season the shallot, garlic and chilli with a pinch of salt and fry gently on low heat until soft. Increase the heat to medium and add the cherry tomatoes and courgette. Cook for 3 minutes.
Add a glass of white wine to the vegetables. Cook over a high heat for 3 minutes or until reduced. Then, add the double cream and turn down to a medium heat.
Cook the pasta in a large pan of salted water.
Add the crayfish meat to the cream sauce, followed by the juice of 1 lemon, grated parmesan and parsley. Check the seasoning and adjust accordingly.
Turn the heat down and wait for the pasta to finish cooking.
When the pasta is cooked, drain and add to the cream sauce. Toss the pasta in the sauce to fully combine.
Plate the dish in bowls with the large whole crayfish on top of each portion. Serve with a lemon wedge, chilli oil and extra parmesan for the table.