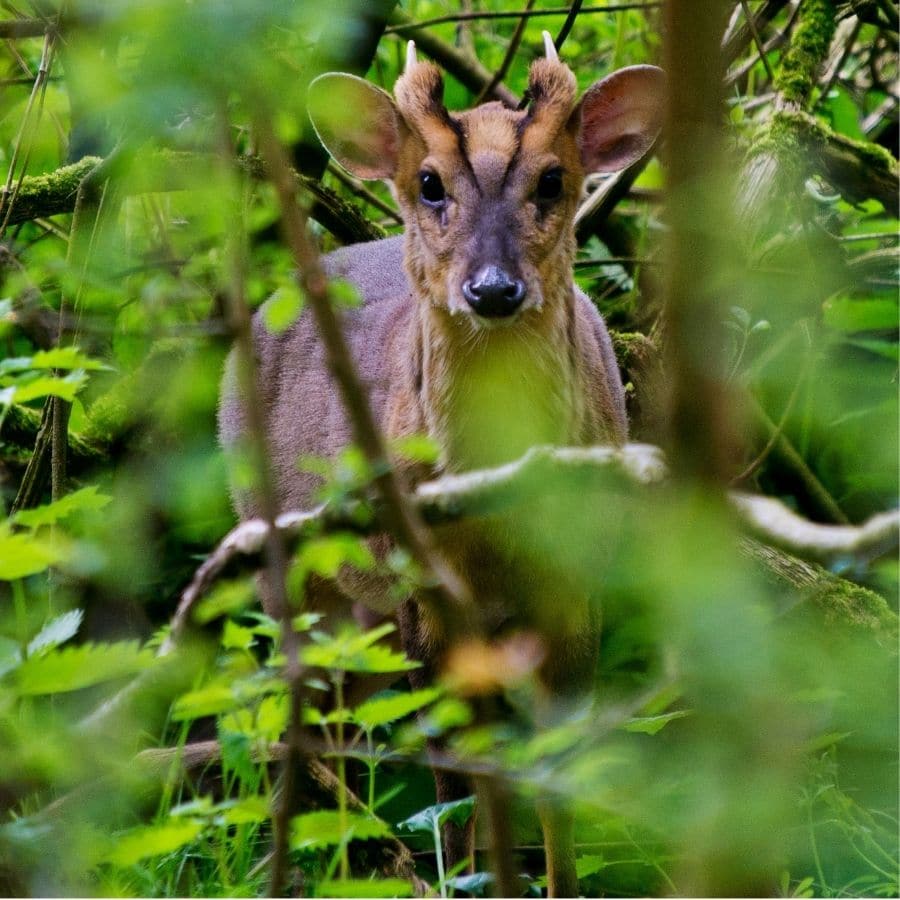 Young Shots Journalist VICTORIA SAYER looks at how muntjac deer have spread uncontrollably since their introduction to England in the 19th century.
The Reeves' muntjac is just one of the six species of deer that inhabit the UK, with roe and fallow a couple of the more common breeds.
They are quite odd-looking mammals, with light-reddish brown fur and a distinctive white stomach, while their facial markings identify their gender. The females have a black diamond shape while the bucks display a shape closer to a 'V'. In terms of noise and vocalisation, muntjac are known to bark like dogs.
History of muntjac in the UK
Muntjac are classed as an invasive species, which means they are not native to the United Kingdom and, as a nation, we are alarmingly overpopulated with muntjac. They spread quickly and cause quite a lot of damage. 
These small deer also have no natural predators in the UK, so they are difficult to get rid of, especially as they breed all year round. The population has rapidly increased from around 2,000 in 1963. 
They were thought to have been first introduced to the UK in around 1838 by the Duke of Bedford. Apparently, he brought them in as pets from Southeast China and Taiwan, where muntjac are native. No one had seen anything like them ever before – a small, dog-like deer with 'fangs' was definitely a novelty.
The beginning of wild population
These first muntjac were kept on the Duke's 3,000 acre estate until, as the story goes, they escaped during World War II after a bomb damaged their enclosure. Since then, they have spread into the South, East Midlands and Warwickshire. The reason they've not spread further is thought to be the fact they can't get over the Pennines  and the M6 motorway.
Muntjac are, however, spreading further into South Wales, where they first appeared in the late 1970s with the very occasional (and questionable) sighting all the way in Monmouthshire.
Don't be fooled by this innocent-looking deer though, they can be very dangerous animals. Muntjac are known to have attacked dogs and other animals and, they're also a danger on our roads. 
By 2012 were held responsible for an unbelievable 42,000 car accidents a year, resulting in 20 human deaths.
Muntjac are also a huge problem in public areas and will eat flowers such as primroses and bluebells, and young trees.  They were once recorded as destroying roses worth thousands of pounds in just seven hours.
According to the Forestry and Land Scotland, in 2021 deer damaged £4.5 million-worth of vegetation and plants. This is why controlling the number of all deer species in the UK is so important. 
Controlling muntjac numbers
Although you don't need a specific licence to kill them, you still need an appropriate rifle and firearms certificate. You can check what's required in our Deer Management Code of Practice. And while muntjac have no close season, best practice recommends shooting only bucks and young does, to avoid orphaning young, dependent fawns.
Just like any deer, you can eat muntjac and their meat is one of the best tasting game meats there is. It's healthy, succulent, and flavoursome, some say closely resembling lamb in taste.
Many believe that the best way to slow their exploding population is to eat them which I think it's a great idea! Have a look at the Eat Game website for some tasty ideas for cooking venison.