As the season was closing, dad and I decided to take our last opportunity to go duck flighting. We left at around three o'clock in the afternoon and headed straight to the duck pond. We had barely touched the pond that year, so this heightened the excitement between us both. We've even set up a new duck hide beside the pond giving us an advantage over the ducks flying in.
Don't forget to collect wings of any ducks or geese you take during the season and send them to BASC to support the duck and goose wing survey! Over time, it will help us shooters prove that our harvest of wildfowl is sustainable – you can read more about this here.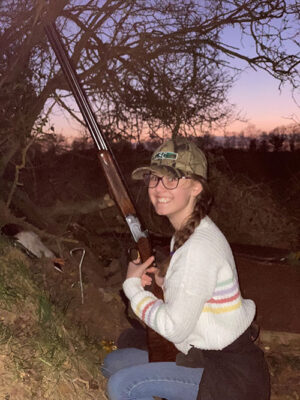 We sat there for around an hour and a half and there was nothing. And just to make the situation more miserable, it was a very cold evening – our teeth were chattering!
Finally, my dad turned to me and said: "Ten more minutes and we'll call it a night."
I was gutted, knowing there was little chance of anything coming our way. The most depressing part was that I knew that this would be the last time I would be able to shoot ducks until next season  and the freezer was looking a bit bare!
Many minutes passed and my dad began to pack up our things when I saw them. Three ducks began to circle the pond right in front of us. This was our moment!
I silently signalled my dad, making him aware of their arrival. We both swiftly picked up our guns and took aim. I aimed for the mallard drake on the left and my dad to the hen on the right. I took one shot and saw the bird fold as it plummeted to the water creating a large splash.
My dad then took two shots and got the hen bird. Unfortunately, the third duck got away but I was ecstatic! One bird with one shot for me! I hadn't shot that well in so long and I was incredibly proud.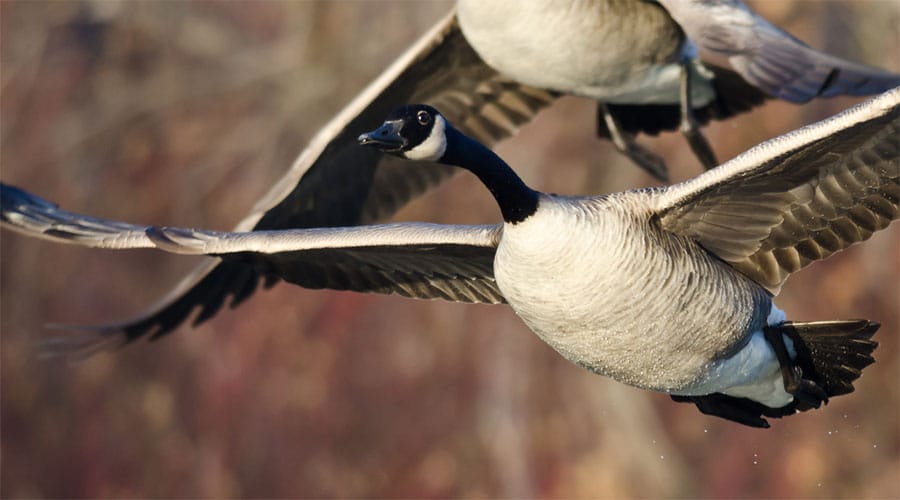 My dad gave me a huge hug and after that I didn't care if any other birds came. I was so proud of the achievement.
To our surprise, more flights came in. Due to our slow start this felt like a revolving door of ducks!
Between our frantic search for cartridges in our already packed bags, and attempts to get the shot in on time, we managed to get one more between us. We decided that we should call it a night, so my dad went back to the car to fetch the dogs to retrieve the birds.
I stayed in the hide to watch in case any more flew in. No more ducks arrived but a skein of Canada geese came, and it was the most amazing thing I had seen. They flew straight over my head – until this moment I had not realised just how big they were!
We finally made our way back to the car with no feeling in our feet from the cold and began our journey back home. We sang along to September by Earth Wind and Fire to celebrate. It's a bit of a tradition for our best shoot days.
The excitement had not quite left us by the time we got home. We had a lovely hot pot for dinner – my favourite food after a night shooting because it warms you right up!
The next morning Dad got the workbench ready, and we got to work preparing the birds.
This was my first time plucking and breasting birds, so I was very nervous. I began plucking the drake's beautifully coloured feathers while my dad plucked the hen bird. Halfway through we had to swap because many of the quills on the hen bird were getting stuck and my dad (although he tried very hard!) couldn't quite get them out due to his fat fingers!
After we finished plucking, we had to breast both birds. We started on the drake, and dad showed me how to do it. I then did the second and it was a lot more difficult than I thought it would be. Mine was not as neat as my dad's but I'm sure I will do better next time.
Later that evening we cooked the ducks, and they were so tasty! We made pan-fried duck with a plum and red wine sauce (see recipe below). There are many more delicious recipes available on the Eat Game website – be sure to visit it.
Knowing I had been able to go through the whole journey, from shooting the bird, preparing the meat, and then having it for dinner, made the whole experience so much better. This is the most satisfying part for me, knowing that I can put food on the table for my family.
Duck breast in plum and red wine sauce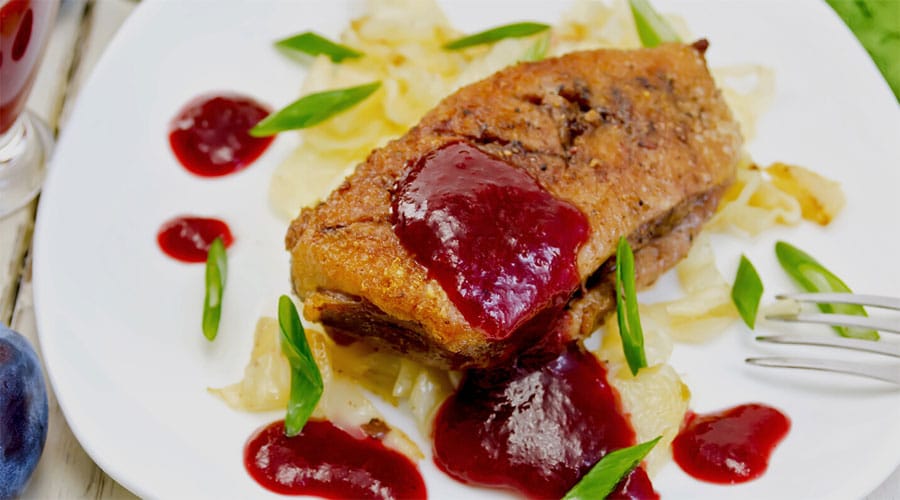 This sauce is perfect for duck. It's sweet with a little tang that works so well with the meat. And the best part is that it's easy to make and you can also batch cook and then freeze it for later.
Ingredients:
Knob of butter
Finely chopped onions
35g demerara sugar
3-4 dark red plums stoned and cut into small wedges
50ml red wine/port
300ml beef stock
Method:
Melt butter in a saucepan and add the onions. Cook on medium heat until the onions have softened.
Add the finely wedged plums and sugar. Stir for a few minutes until the sugar has dissolved.
After a few minutes, add the stock and red wine/port.
Let it all simmer for 15-20 minutes until the sauce has reduced a little.
This is a simple and quick way to cook delicious duck breasts. Very little ingredients needed but very effective.
Ingredients:
Knob of butter
2 duck breasts
1 sprig of thyme
Method:
Preheat the oven to 160°C (fan) or 180°C (no fan).
Score the top of the duck skin with a sharp knife and season with salt and pepper.
Melt the knob of butter in a pan and fry the duck breast skin-side-down for 7 minutes.
Add a little more butter and thyme and flip the breast meat side down for about 30 seconds.
Then, allow one minute to brown all over while basting the mean with juices.
Finally, transfer everything to a small roasting tin and place in the oven for 5-6 minutes for pink or 10-12 minutes for well done.
Part three: The finishing touches
Once the duck is ready, remove from the oven and rest it on a chopping board for 5 minutes while you prepare whatever you want to serve the meat with.
We went for a good old mash, but this recipe will work well with new potatoes, wedges, or even rice.
After you are done, thinly slice the duck breast and place on the plate, drizzle the plum sauce over it and enjoy!