The UK is home to 75 percent of the world's heather moorland, which as a habitat is rarer than rainforest. The majority of the grouse moor landscape in the UK is managed for grouse shooting and funded primarily by private investment – this is the most cost-effective model of upland management to the tax payer.
Throughout the year, grouse moor managers use a range of management tools to maintain and improve the health of this unique upland environment. 
Heather burning, cutting and monitored grazing can all play a part, while managing pests, predators and invasive species, controlling disease and ticks, and restoring historically damaged peatland all help towards improving the grouse moor landscape.
Heather burning (known as muirburn in Scotland) involves low intensity, quick and 'cool' burns of selected small areas of mature heather. Burning in such a way removes the canopy of older heather and encourages the regeneration of new heather shoots with no adverse effect on underlying peat or soil.
Well-planned heather burning creates a mosaic of heather habitat that caters for a rich array of species.
Controlled burning reduces the risk of wildfires by reducing fuel-load and creating firebreaks.
Managing heather helps preserve and protect the UK's biggest carbon store in peat. Grouse moor managers have a vested interested in ensuring peatlands are in good condition as peat is the basic building block for grouse habitat.
Responsible grouse moor managers are working to restore historically damaged peatland, by blocking drainage ditches (re-wetting), and through revegetating exposed peat.
Bracken control is routinely undertaken on heather moorland managed for grouse shooting. This prevents the invasive species from swamping other moorland plants and reduces the available breeding habitat for ticks.
Many grouse moor managers privately fund tick treatments. Ticks can pass on disease to humans, grouse and other wildlife.
Grouse moor managers are helping to reduce downstream flood risk by re-wetting peat, blocking grips/drains to slow water run off and creating ponds and mini moorland scrapes, among other things.
90 percent of English grouse moors fall within a National Park or an Area of Outstanding Natural Beauty.
The cessation of grouse shooting would most likely result in the abandonment of heather moorland areas, and management of heather and peatland would cease unless public funding could be found.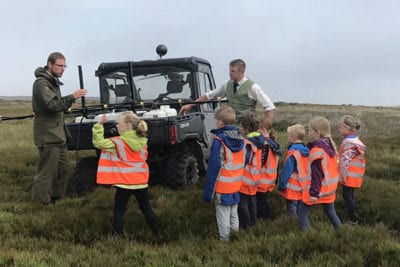 Let's Learn Moor 2021 set to educate and inspire thousands of primary school children from across the UK about our upland habitats.
Read more...