It is cold, I have got one wellington boot full of stinky water, one of the 4x4s is stuck, and I have just hit my thumb with a hammer. What are we doing and why would I want to spend my Saturday doing this?  
BASC's Murray Woodward tells of how he got stuck in to the mallard nesting tubes project and runs us through his journey so far…
Mallard nesting tubes project
I had heard of the success of mallard nesting tubes (MNT) in the USA and how a lot of UK wildfowling clubs had also adopted them with great results. So, it was exciting when we were told we would be running an MNT project in the northern region as part of a wider BASC initiative.
Over the next couple of months more than one hundred MNTs were constructed and distributed by BASC, with the help of local colleges various other groups, to shoots, farms, schools, and conservation groups across the north.
Practising what you preach
Not wanting to be left out, and with a certain amount of 'practice what you preach', my girlfriend and I spent a Sunday constructing a few of these tubes.
The BASC videos on YouTube were invaluable and very easy to follow.
Overall, I would say they were simple to make and get easier the more you do. 
You can make them on your own, but it's definitely better with a helper. Even more so with a gang of you; an ideal reason to get your shoot or club together for a works' party. You will soon find you can churn them out in no time.
For me, the trickiest part (apart from the installation, but we will get to that later) was ensuring you had created the right size circumference for the inner tube, before rolling it all up and securing it together. Too small, and the duck will not want to go in it. Too big, and the outer wire will not reach all the way around.
A bit of trial and error and we had soon worked it out though. Now we needed somewhere to stick them.
A call was made to Jim, who runs a small shoot on the edge of the Peak District National Park. Jim is what I would call a true countryman; as passionate about shooting as he is about wildlife and conservation.
Luckily, Jim was more than happy to have the nest tubes. I, in turn, was excited about the possibility of having some wild duck broods to add to an already rich array of wildlife up on the shoot, including some wild partridge and resident nesting woodcock.
Nesting tube installation
We met up on a sunny but cold and windy Saturday afternoon. First problem, my waders had sprung a leak.  And by leak, I mean Titanic!
Secondly, the depth of the pond had been greatly underestimated by me on a previous reccy, so the posts simple disappeared completely under the water. Lesson learned for next time: better preparation needed!
Ideally the MNT should be out in the water and high enough to avoid predators like mink climbing in. 
However, we had to adapt our plans and managed to install them just in the water, on the edge of the pond.  Miraculously, with only the one leg drenched over wellington height and one bruised thumb.
Where they are positioned is not probably ideal, but should provide a good deterrent for most ground predators. We also made sure to direct them out of the wind.
A good job done, we set about getting the afore-mentioned hapless 4×4 out of the bog. 
After a few tries we were free and a well-earned brew was calling.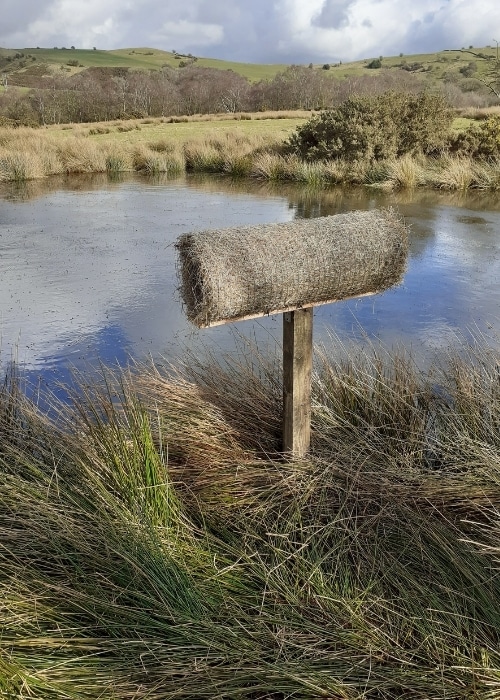 Now, we wait.
We are not expecting them to be used this nesting season and as I write this, no joy, but fingers crossed for next spring. In the meantime, predator control, particularly for magpies and crows, will be ramped up.
Despite the comedy of errors, this little project was good fun, spent in superb company, enjoying some stunning countryside, and doing our bit towards conservation.
Have you put up your own nesting tubes?
The Wildfowlers' Network have created an online form to record the success of your nesting tubes and factors that affect this.  Click here for more information and to submit your data.